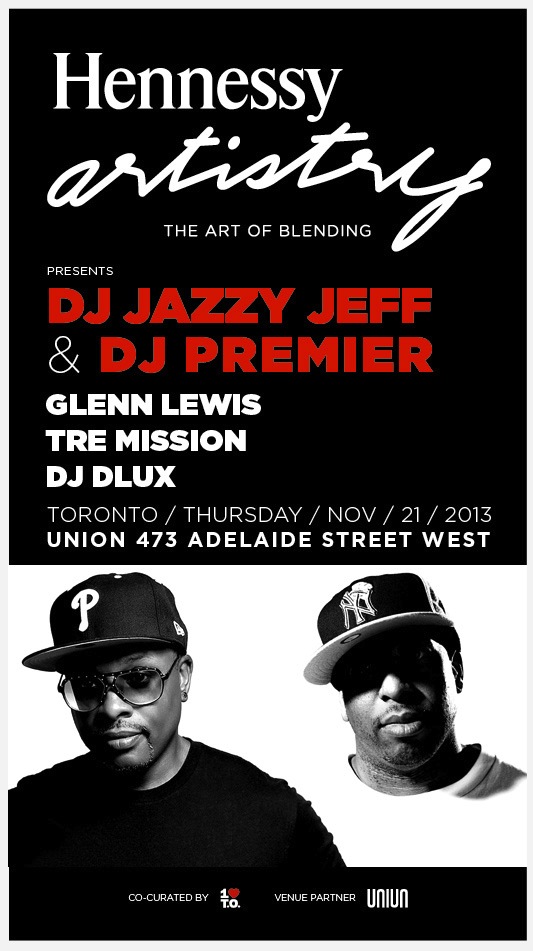 Hennessy returns to Toronto with their Artistry Series after a rather epic jam earlier this year with Ivana Santilli, E-Man, and DJ DLUX. On Thursday November 21st they're throwing an even more epic jam at UNIUN Nightclub to continue the global art of mixing. Hennessy presents their biggest Artistry event of the year featuring amazing performances by Hennessy Talent Quest winner ColinResponse, Tre Mission, DJ DLUX, Canadian R&B neo soul artist Glenn Lewis, legendary hip hop producer DJ Premier, and the magnificent DJ Jazzy Jeff!
Hennessy's Artistry Series has taken place all over the world since 2006, offering party-goers the opportunity to experience amazing live music in a glamorous setting, blended with the brands signature taste and sophistication. Alongside this eclectic mix of musical talents, the Artistry event will begin at 9pm and feature four of their signature Long drinks which blend the classic tastes of citrus, ginger, apple, and berry flavours with rich Hennessy VS cognac.
Best of all? Their biggest Hennessy Artistry event is completely free! It's not often you get to experience five incredible talents all at once, mixed to perfection with Hennessy cognac for free in Toronto, so mark your calendars for the 21st because you won't want to miss this!!
Get ready by watching their latest acoustic session with ColinResponse filmed inside a Hennessy barrel making factory below.