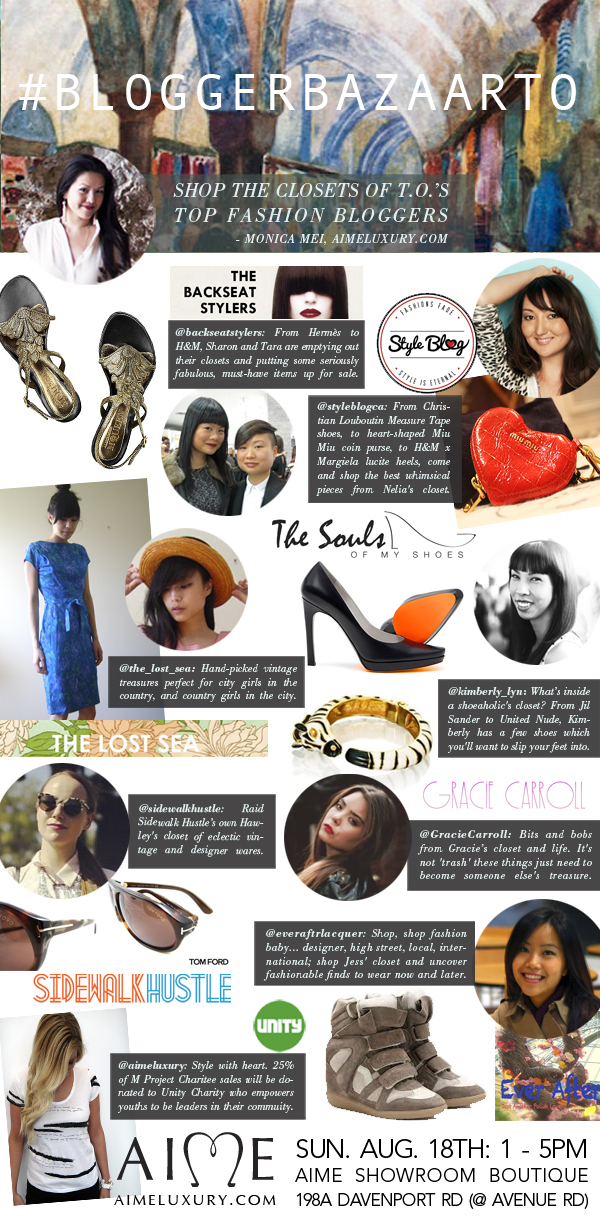 Need plans next weekend? We've got you covered. Sidewalk Hustle has partnered with Aime Luxury, The Backseat Stylers, StyleBlog, The Souls of my Shoes, Gracie Carroll, and Ever After, You Just Got Spotted and The Lost Sea for the first ever Blogger Bazaar!
On Sunday August 18th from 1pm to 5pm, you'll be able to shop all our closets to score rad designer wares, vintage gems, and cheap thrills. Plus, we'll have some amazing giveaways, a braid bar by Civello Rosedale, and the first lucky fifty attendees will receive a killer swag bag courtesy of Flare, H&M, Joe Fresh, eLUXE, Unilever, ALDO, and Aime Luxury with any purchase!
So bring your cold hard wads of cash so you don't leave empty handed and get ready to shop the afternoon away! It's just $2 to get in which we'll be donating to UNITY Charity – snag your tickets here in advance. Let us know what you scored by using the hashtag #BloggerBazaarTO.
See you there? Head to our Facebook group to get more details and check us out in The National Post.