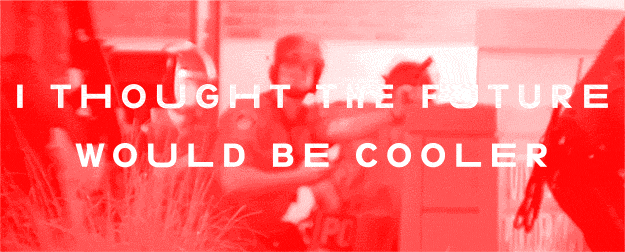 YACHT have unveiled details of their fifth forthcoming album I Thought the Future Would Be Cooler in a pretty cool manner. They've shared what they're calling a "tracklisticle" via BuzzFeed wherein a number of GIFS they created for each track on the record in a post titled "11 Ways We Thought The Future Would Be Cooler."
Each GIF, including the one above, is complimented by a statement including this introduction:
We are the band YACHT. This is the tracklisticle for our new album, I Thought The Future Would Be Cooler. We chose to unveil it here on BuzzFeed because it's 2015 and the album is dead, the novel is dead, but the GIF loops forever. ♥ ♫
Head over to BuzzFeed to check out their post and be sure to watch the original announcement video below, shot on a drone in LA, which appeared on Billboard a week or so back.
I Thought the Future Would Be Cooler Track List:
01 Miles & Miles
02 White Mirror
03 Matter
04 Ringtone
05 I Thought The Future Would Be Cooler
06 L.A. Plays Itself
07 I Wanna Fuck You Till I'm Dead
08 Hologram
09 Don't Be Rude
10 War on Women
11 The Entertainment