2019 marks Coachella's 20th anniversary, and the festival runs for April 12-14 (weekend 1) and April 19-21 (weekend 2). Headliners include Tame Impala and Khalid with continually rising artists like Juice WRLD, Billie Eilish and Mac DeMarco, international groups like Blackpink and standalone talents like Solange (no longer performing due to production issues), Kid Cudi, and Bassnectar.
If you're heading to Indio for the annual festival, here are some names to watch for.
Kanye West
Kanye will bring his "Sunday Service" session to Coachella right in time for Easter Sunday. His performance will commence at 9AM on April 21 (weekend two only). But wait, hear out his plan.
According to Coachella's co-founder Paul Tollet, Kanye's gospel will be performed on "the Mountain" at the Coachella campsite. Tollett told Billboard: "It's challenging for us because we've never done this before…It was suggested, 'Why don't we try this in camping, since it's in the morning and all the other campers are already there?' Other people going to the show can come early if they want," he said. Anyone with a Coachella ticket will have access is what's been reported. We did not speak directly to Tollett so assume no liability as we convince you to see Kanye.
So, he didn't get a dome, but he's still coming to Coachella to bring Kanye enlightenment to the masses.
"There's different heights that Kanye is going to play with," Tollett says.
Kanye West's Sunday Service on Easter, Weekend 2 🙏 pic.twitter.com/jFIcLYNUlV

— Coachella (@coachella) March 31, 2019
Alice Merton
(Frankfurt. Germany)
Performing April 14 & April 21
Her debut album Mint is one of the best heard in 2019 so far. If you're a fan of Haim or Lizzy Plapinger (MSMR, LPX), you'll probably fall hard and fast for Ms. Merton.
Blackpink
(Seoul-based, South Korea)
Performing April 12 & April 19
Blackpink is the first K-pop girl group to ever play Coachella. Coachella co-founder Paul Tollett went to South Korea to personally invite the group to perform. Above is their brand new song and official music video for it.
Blood Orange
(Ilford, UK)
Performing April 14 & April 21
Following Coachella, Blood Orange will perform with Florence + The Machine on select dates including the Canadian stops on May 26 (Toronto) and May 28 (Montreal).
Jan Blomqvist
(Berlin, Germany)
Performing April 14 & April 21
He's currently on his Disconnected Tour, which includes a live band. If you can't catch his meticulous club-soul wonderment in Indio, he also performs in Washington, Chicago and for Lightning In A Bottle in May, before heading back to Germany.
Juice WRLD
(Chicago, Illinois, USA)
Performing April 12 & April 19
Considering he's featured regularly on the monthly music rundown, it's not a stretch to further recommend Juice WRLD now is it.
Tame Impala
(Perth, Australia)
Performing April 13 & April 20
Any chance to see the psychedelic rockers play should be taken with the same zest and spirit as the one before. And if you can't let it happen at Indio, they also play Lollapalooza, NorthSide 2019 and Flow Festival this summer.
Unknown Mortal Orchestra
(Aukland, New Zealand)
Performing April 14 & April 21
If you're into Tame Impala, you might find something you like here.
Kid Cudi
(Cleveland, Ohio, USA)
Performing April 13 & April 20
"Day 'N' Nite" was released in 2008 and the poetic love affair this man has created since then should never be overlooked. Think artists like Juice WRLD didn't grow up listening to Cudi? Place a bet. Also, Scott Mescudi (a.k.a. Kid Cudi) just signed onto Dreamland, Nicholas Jarecki's opioid thriller which stars Sam Worthington, Evangeline Lilly, Armie Hammer and Gary Oldman. Dreamland is in production in Montreal.
CHVRCHES
(Glasgow, Scotland)
Performing April 14 & April 21
You go to Coachella to see live shows, in the desert, that you can't see anywhere else in the world. You want acts like Chvrches there. You want to hear Lauren Mayberry sing to you. It's not a shock their latest album, quietly titled Love is Dead, reached No. 1 on Billboard's Top Rock Albums and Top Alternative Albums charts. Producing songs with artists ranging from Matt Berlinger to Marshmello should also show this trio's range.
Other names you'll obviously catch are Aphex Twin, Kaytranada, Ariana Grande, RÜFÜS DU SOL, Solange, Kacey Musgraves and maybe even Weezer.

Food
This year Konbi will make its food introduction on Coachella grounds. The Japanese restaurant will have selections including an egg salad sandwich and pork katsu sando, according to Eater LA. Other newbies for the 2019 season include Love Hour (burgers), Madre (only VIP) and Curtis Stone's Gwen spot (also for VIP). Curtis and Luke Stone will also have a pop-up restaurant during the music festival.
Art
Poetic Kinects will once again show some large-scale installations.
Expect things like this:
Photo courtesy: Coachella/Instagram (2014)
Or maybe this:
Photo: Poetic Kinetics / Instagram (2013)
Other creative names to for sure watch for include NEWSUBSTANCE, the UK studio continues to do impressive things. Things such as creating multi-dimensional projects like the 2018 Spectra Coachella installation, which won the Gold Award at the 2018 International Design Awards (IDA).
Photo: Spectra @ Coachella, 2018, NEWSUBSTANCE
Parties
The desert is fun, but there's more partying to be had in Palm Springs during the festival weekends.
The Coachella Day Club lineups are pretty sweet. Our favourites below. But check out the full lineup here and make your call.
Top pick:
Weekend 1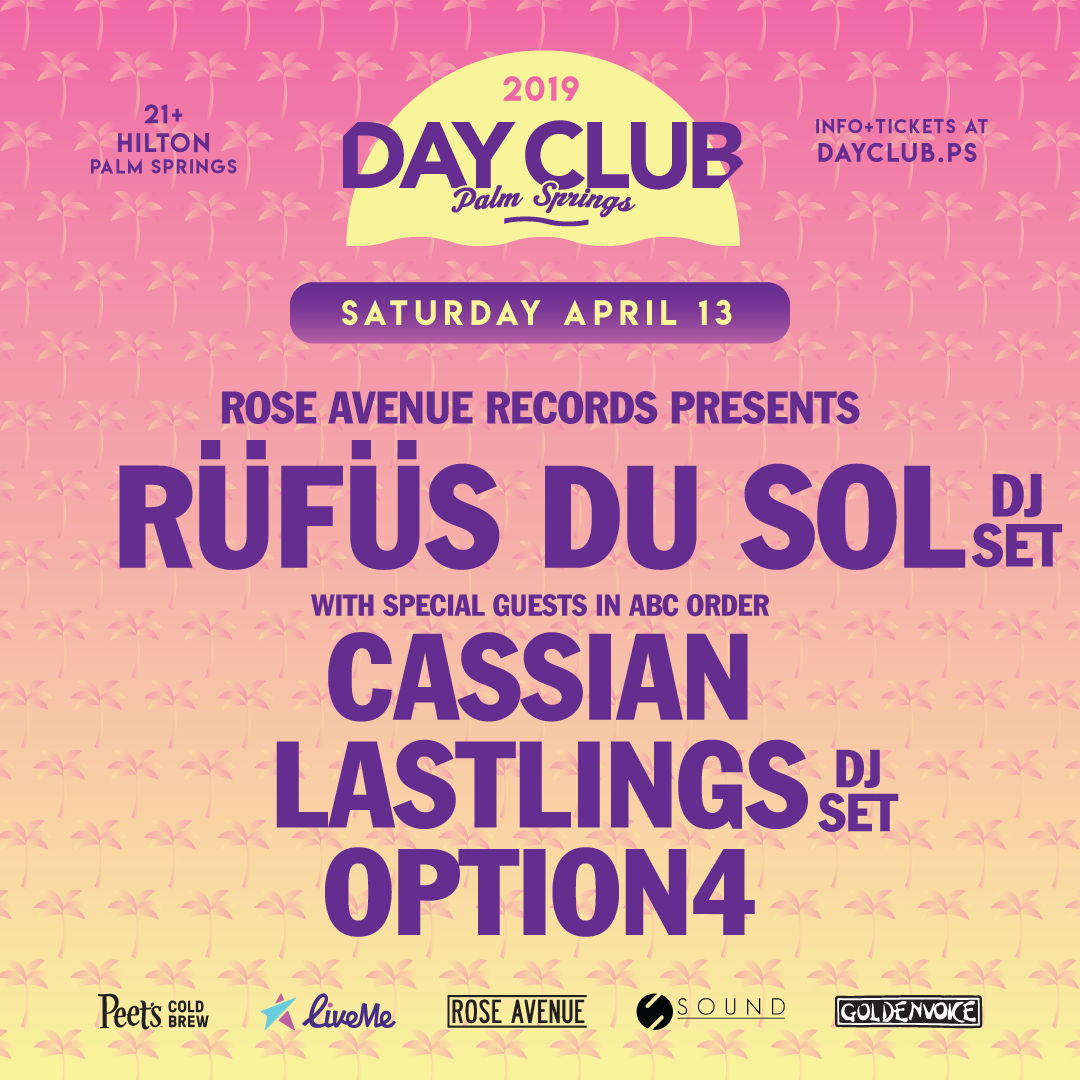 Top pick:
Weekend 2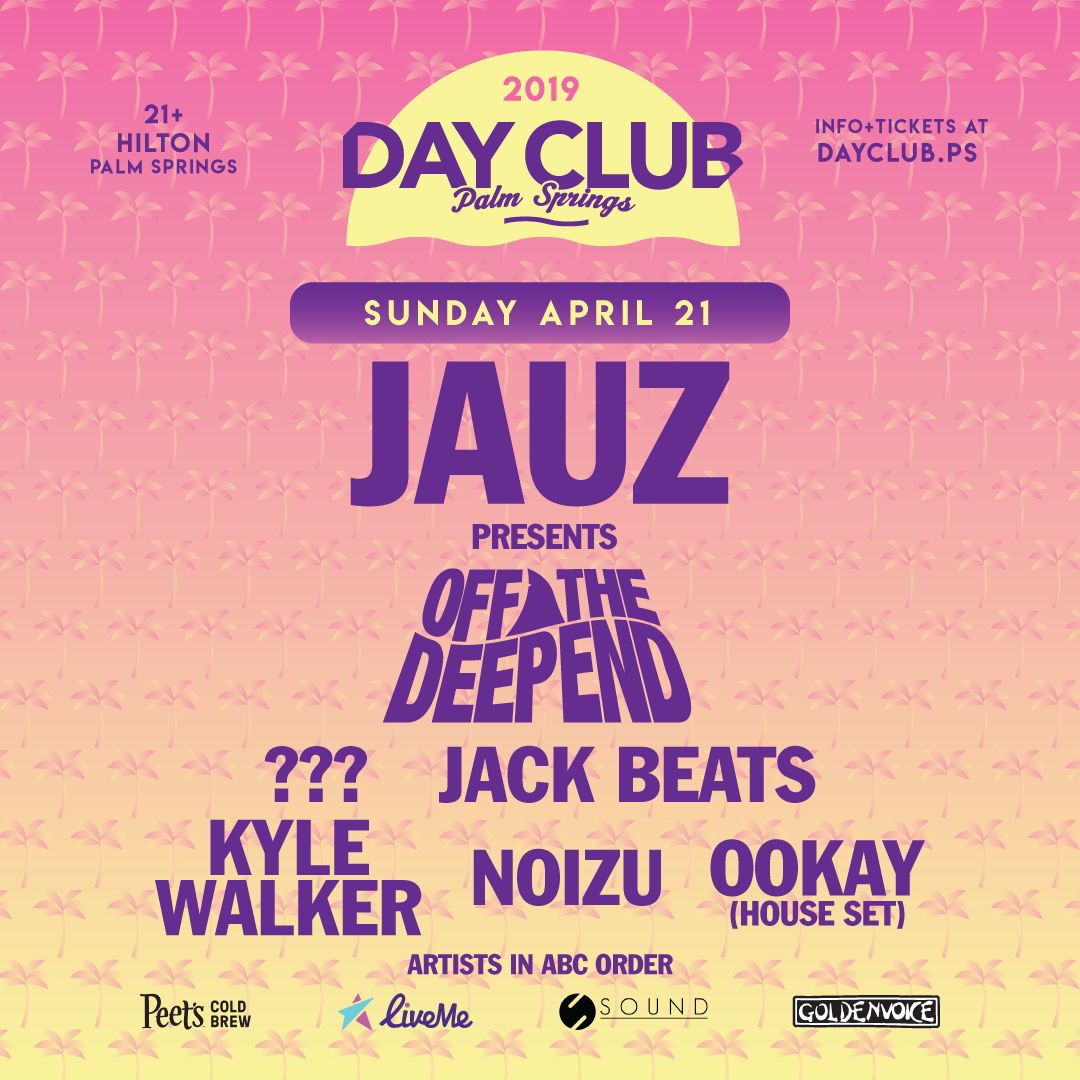 Another Palm Springs favourite is the Ace Hotel & Swim Club which will celebrate its 11th year of Desert Gold, featuring DJ sets from Jónsi and Julianna Barwick, among others.
Records, Records, Records…
And for all you record collectors, or people that just can't hack the heat, there's an air conditioned record lounge on site where you can snag Record Store Day exclusives.
Take home a new find, or dig up an old favorite at the air-conditioned Record Store on site, curated by Record Safari. Flip through 30,000 new and used records including @RecordStoreDay Exclusives on Weekend 1, and even hold your purchases at the shop during the festival. pic.twitter.com/XoTRba6GKF

— Coachella (@coachella) April 1, 2019
Featured photo: Coachella/Twitter