Watching an industry like esports unfold with daily updates, new arenas, sponsorships, and signings is exciting. Each day there is some kind of news coming out, which is a telling sign of the growing interest in competitive gaming.
Drake is the latest name to enter esports, investing in Players' Lounge, an esports betting startup. The company just closed a $3 million funding round.
The Overwatch League is the biggest standout. Overwatch is a team-based first-person shooter video game and its developer, Blizzard Entertainment, (World of Warcraft) is behind the formation of the Overwatch League, which has over 40 million players. Six players compete in a match. This year the Overwatch prize pool is $5 million, up from $3.5 million in 2018.
Apple and Google both unveiled ways to get people hooked on games and the experience, playing on competitive connection, which is a cornerstone to esports. Yet, they haven't cracked into the esports zone just yet. Still, there's a full block of people and brands noticing the following for League of Legends and Counter-Strike: Global Offensive, two of the most popular esports.
Last year's biggest esports entry though was Fortnite, which won best breakthrough game at the 2018 Esports Awards. The game pits one another against each other in a "battle royale" fashion. The show garnered over 3.3 million votes and 2 million viewers via Twitter's live coverage. Fortnite has become one of the biggest phenomenons in gaming, casting a spotlight on esports.
Also last year, Tyler "Ninja" Blevins, the world's most popular professional video game streamer, became the first esports player to make the cover of ESPN The Magazine. The 27-year-old apparently earns over $500,000 a month from his live-streamed gameplay. (In his own words.)
In 2019, we're expected to see esports further edge into the mainstream, some saying the industry will rake in over $1 billion, up 27 percent from last year. Global esports viewers will total $453.8 million this year with year-on-year growth of +15.0 percent, according to a comprehensive report from Newzoo, an industry analytics firm.
"On its current trajectory, we estimate the esports market will reach $1.8 billion by 2022," the report reads. Asia-Pacific is expected to account for over 55 percent of esports enthusiasts in 2019.
"The 23.9 million esports enthusiasts in North America will generate US$17.13 per fan this year," reads the report.
Source: Newzoo

Big brands are taking notice says Newzoo CEO Peter Warman. The Newszoo report said that esports will generate $409.1 million in revenue in North America alone.
"This is not experimental budgets. This is for the long term, and it's good amounts of money," said Warman. "It's what the ecosystem needed and what investors wanted to see."
Coca-Cola, Intel Corp., T-Mobile and Toyota are among the brands already tapped into the market. Nissan just jumped on board, too.
Amazon recently announced a partnership with Major League Soccer (MLS) that will see a one-year partnership between the MLS and Amazon Twitch. This means that Twitch (which Amazon acquired in 2014 for $970 million) will stream the league's esports games and events. Events like The eMLS Cup, which takes place March 29-30 at PAX East in Boston, can be watched on Twitch and Twitter and in some cases the MLS website. The eMLS league launched a year ago and the inaugural champion is Memo from the Houston Dynamo.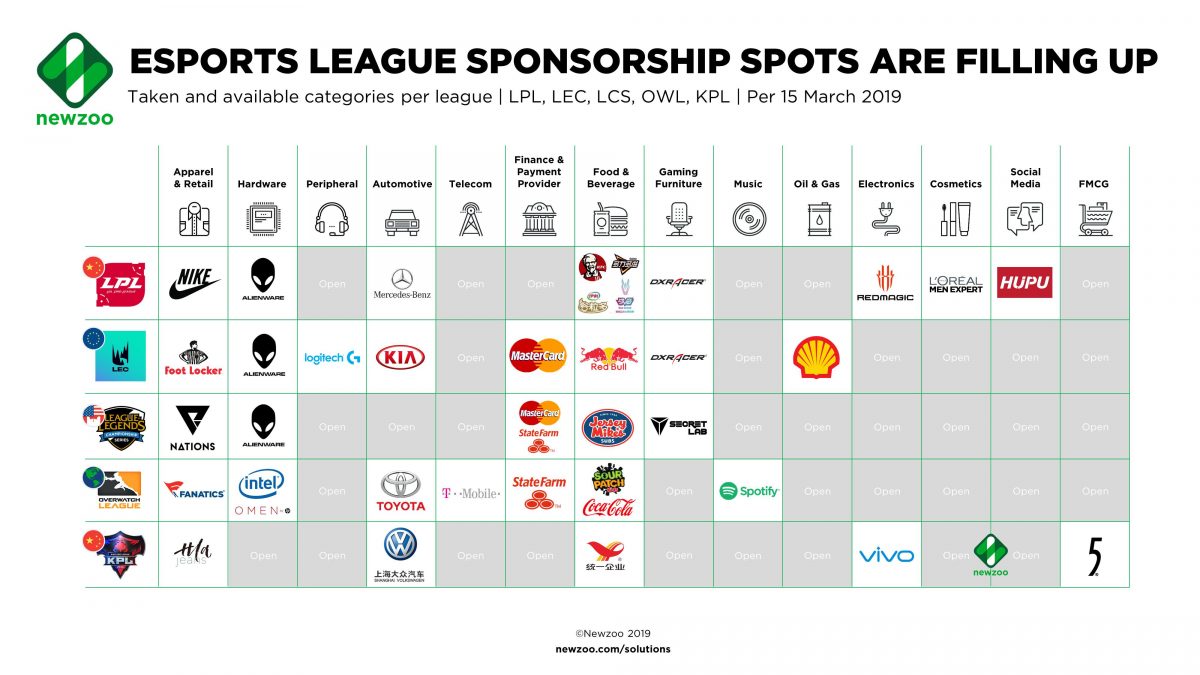 Source: Newzoo
Earlier this month compLexity Gaming, one of North America's longstanding (since 2003) competitive gaming groups made a big announcement signing Youtuber @aa9skillz and @JoksanRedona, both for competitive FIFA. And yesterday the world's largest game retailer, GameStop, announced it will be the premier sponsor of compLexity's new esports training center (compLexity HQ) in Texas. The new GameStop Performance Center will be an 11,000 square-foot facility that offers gaming clinics, training opportunities as well as public play. CompLexity is owned by Jerry Jones, a.k.a. the owner of the Dallas Cowboys. Expect more crossover between competitive gaming and professional sports. Texas is already capitalizing.
"We are creating a world-class facility that will engage fans both in person and online and positively impact the entire industry for decades to come," said Jason Lake, CEO of Complexity Gaming, in a statement.
This is just one of the announcements about esports partnerships the company made. GameStop has been synonymous with gaming for a very long time so this foray into esports should prove to be valuable.
Photo: Fusion Arena/ Comcast Spectaco
But this isn't the only news around a new facility: Philadelphia will have the "first-ground up-purpose-built esports arena in the western hemisphere," when the Fusion Arena opens up. The $50 million venue has a 3,500 seat occupancy with event production, operations and training facilities (Fusion HQ) as well as an entry lobby and other spaces. The arena will house Philadelphia's professional esports team in the Overwatch League, the Philadelphia Fusion. Fusion Arena is expected to be up and running by early 2021.
As mentioned, the Overwatch League is a big deal in esports and just made its own announcement.
There are even legal services now available to Canadian players to help ensure game contracts and negotiations are done right.
Other recent announcements:
HyperX (high-performance game headsets and equipment) will now sponsor Entity Gaming's Counter-Strike: Global Offensive team, supplying HyperX products in addition to sponsorship money.
HyperX also helped sponsor Khalid's 21st birthday bash this month.
This week, Canadian esports organization Lazarus Esports announced a partnership with SheIS, marking a major effort to build up female players in the esports industry.
Photo: Lazarus Esports
ESL and AT&T have partnered and launched the ESL Mobile Open. The amateur mobile gaming league kicked off its first season on March 18. The prize pool is $330,000.
"A first in the industry, ESL Mobile Open was developed to provide anyone with a phone access to compete at the highest levels with both established and emerging mobile esports titles," said Yvette Martinez-Rea, CEO at ESL Gaming North America, in a statement.
Kind of sounds like similar phrasing to what Google is saying about Stadia.
"Play anywhere" and "all you need is Wi-Fi" and "you can play on your smartphone" are all big sells these days.
Canadian-made
Canada currently has two professional teams in the Overwatch League: the Vancouver Titans and the Toronto Defiant. These are two of eight teams that are new this year, and there are 20 teams currently competing in the esports league. Last year, London won the championship and took home $1 million. The Philadelphia Fusion came second and earned $400,000.
Back in January Canadian esports company, OverActive Media Group raised over $22 million in its latest round funding. This follows a $21.5-million initial round of funding confirmed in October 2018. These funds will go into the expansion of the Toronto Defiant franchise.
OverActive Media's original investors include Sheldon Pollack (tech entrepreneur), Adam Adamou (VC) and Michael Kimel (part owner of the Pittsburgh Penguins, and co-founder of Chase Hospitality Group). OverActive Media also owns the U.S. company Splyce, who will be responsible for Toronto's team operations.
Canucks Sports & Entertainment chairman Francesco Aquilini is on board with the Vancouver Titans. Aquilini and his team partnered with Luminosity Gaming, too. Vancouver is also home to multinational studios producing global franchises like FIFA (Electronic Arts), Gears of War (The Coalition / Microsoft) as well as independent mobile game developers like IUGO Mobile Entertainment and Hothead Games.
Montreal doesn't have a professional Overwatch team but does have Montreal Esports and Grizzly Esports, both helping expand esports in the city.
So, what's next?
Check back in a day, there will be more.
This year the champions in the Overwatch League will win $1.1 million. The runner-up will get $600,000. Most of the games are played at the Blizzard Arena in Los Angeles, but this will change come 2020 when teams will be able to play in their home cities.
So, there's no better time to get on board with the Toronto Defiant. Meet the team below.
The Defiant's head coach is Beomjoon (Bishop) Lee.
#RiseTogether is the team's slogan.
Also, with the appointment of Humza Teherany as Maple Leafs Sports and Entertainment's (MLSE) chief technology and digital officer, one that also handles the esports arm, Toronto might get the extra boost into esports needed to lead like Texas is.
Photos: Toronto Defiant / Twitter