Now with Coachella fever in full swing, it's not terrible to plan for experiences to come, so, we've selected the 10 best festivals to know about and go to (if you can). All selections have talent worth catching and people probably worth meeting, at least for days or a weekend in the sun.
Rolling Loud
When: May 10 – 11 – 12
Where: Miami, FL, USA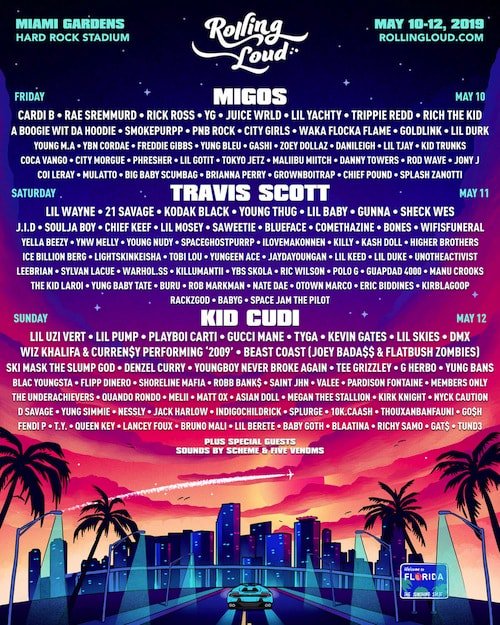 Rolling Lands features a strong roster of hip-hop acts, ones that are in the spotlight and others that will be. The tickets are over $300 because of this selection process. The festival is run by Matt Zingler, a former nightclub manager, who touts the venue (which holds 40,000) as really "a nightclub, just bigger," in an interview with Forbes. Rolling Loud as a company has also nabbed up properties with plans to expand in Mexico, Japan and London, according to Forbes. This marks the fifth year of the festival, and there are less than 25 days left until go time.
EDC
When: May 17 – 18 – 19
Where: Las Vegas, NV, USA
EDC has become grounds full of the who's who of electronic music. But it's also sometimes about rap artists, sometimes rock, however, you know (and typically go) if you are into longstanding veterans like Andy C, Sander van Doorn and Claude VonStroke as well as 'always good to see' talent like Cosmic Gate and Kaskade. Then add in some Above & Beyond, a bit of Don Diablo, and some variety with A$AP Rocky for good measure, and welcome to EDC 2019. There's also this charity initiative worth mentioning that Kaskade is a part of.
Governor's Ball
When: May 31 – June 1 – June 2
Where: Randall's Island Park, NY, USA

Here's a festival that is always just a solid bet to go to, year after year. It's not too flashy, it gets the acts you enjoy and wraps things up to get the summer starting, officially. This year the acts we're most keen to see are The Strokes, Nas, Lil' Wayne, Mitski and Toronto gem, Jessie Reyez. The Internet and Tyler the Creator will surely entertain, too.
Bonnaroo
When: June 13 – 14 – 15
Where: Manchester, TN, USA
If you are looking for a fun escape, one that welcomes all types of music, sorts, and will probably send you on a mission or two when actually getting there, check out this lineup. Childish Gambino, RL Grime, Odesza, Bishop Briggs along with The Avett Brothers and Courtney Barnett, and don't forget Girl Talk, Phish and Beach House, will all be here. Six stages will be set up to house this fun.
Glastonbury
When: June 26 – 27 – 28 – 29 – 30
Where: Worthy Farm, United Kingdom
You know those lineups you read and each name is a check mark and a gasp in one? First off, Santigold? Thank you.  Stormzy? Thank you, again. Janet Jackson? Perfect. Vampire Weekend? We're in. Pair that with the likes of The Streets, The Chemical Brothers, The Cure, Friendly Fires, Snow Patrol, Miley Cyrus, Liam Gallagher and Ms Lauryn Hill? Oh boy. The five-day festival will be a hit, as it usually is.
Essence
When: July 4 – 5 – 6 – 7
Where: New Orleans, LA, USA

This festival feels like the reunion we've been waiting for. And look at that the popular (and significant) magazine is celebrating its 25-year anniversary, naturally, with Mary J Blige and Missy Elliott. But, let's say you can't make this festival and you, like us, love Mary J Blige and Nas — well they just announced a tour together so don't worry. Still, there is much to indulge in here and doing it in New Orleans in July just makes sense.
Osheaga
When: August 2 – 3 – 4
Where: Montreal, QC, Canada
If you don't want to go to any other festival this season and you're going to Osheaga, it's totally understandable. Osheaga is a great festival, one that has ushered in acts from Ratatat to Eminem to Bright Eyes. This year welcomes a nice refresher into the world of City and Colour, which should be interesting and memorable. And make sure to enjoy further Canadian talent including The Glorious Sons, Mac DeMarco, Metric and Kaytranada. Happy to see Taylor Bennett on the bill as well.
Woodstock
When: August 16 – 17 – 18
Where: Watkins Glen, NY, USA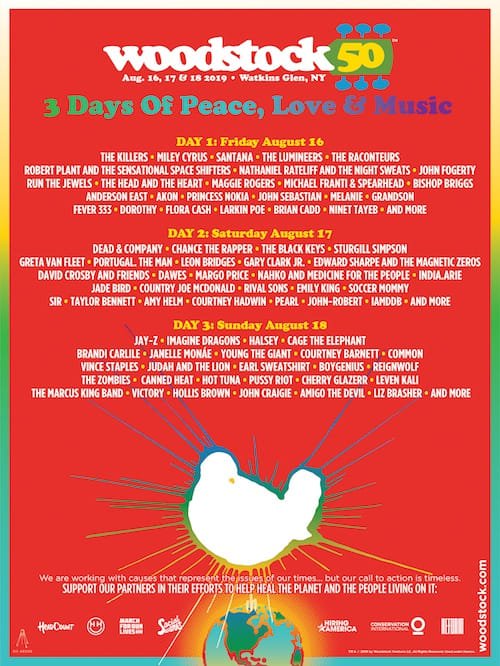 When news broke that Woodstock was coming back but for a new generation it may have felt like a general hum—how can you do Woodstock, again? But, the lineup, which consists of artists like Jay-Z, Common, Gary Clark Jr, Chance the Rapper and acts like Run the Jewels, Greta Van Fleet and The Raconteurs, boasts a good hope for rekindling what we think Woodstock was like: magical and messy.
Leeds
When: August 23 – 25
Where: Leeds, United Kingdom
Leeds and Reading Festivals are annual music festivals, showcasing eclectic artists that vary in age and scope. Talent ranges from Foo Fighters to Yungblud, Bastille to Machine Gun Kelly, an headliners include Post Malone and The 1975. If you're someone that likes to double up, here's an end of summer finale to go out to. More options with the same acts is not so bad.
Afropunk Brooklyn
When: August 24-25
Where: Brooklyn, NY, USA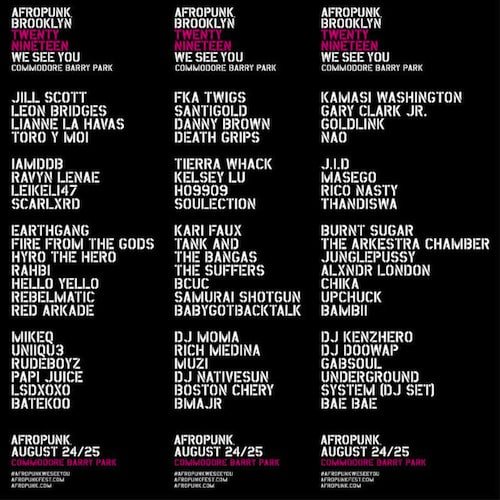 Another Brooklyn escapade awaits you. The two-day festival will also feature a battle of the bands component and you can get acquainted beforehand thanks to a selection of mixtapes available to preview. Top picks to catch here include FKA Twigs, Toro Y Moi, Leon Bridges and Goldlink.