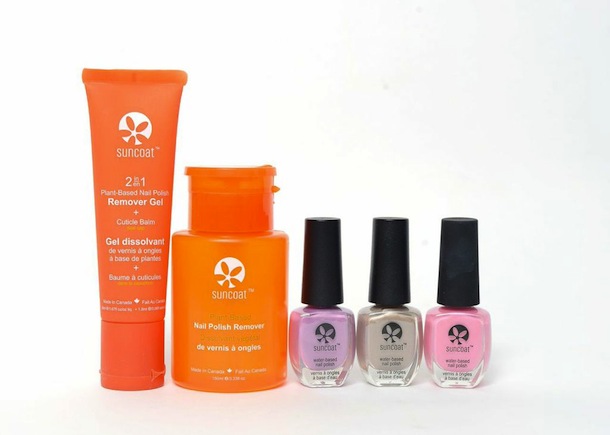 I wear nail polish almost every day. I love the way painted nails can perfectly accessorize a great outfit, or add that little bit of glamour to an evening out. What I hate about nail polish is removing it. Dry fingers, and nasty cuticles look a zillion times worse after you have soaked your nail beds in a touch of acetone. My prayers (and I'm sure many other's) have been answered with an ingenious product line by Suncoat, a non-toxic collection of nail polish and nail polish removers made in Canada. The formula's are formaldehyde, toluene, acetates, phthalates and alcohol free, so you're literally painting your nails with nature. Amazing right? 
The Suncoat collection includes a water-based Nail Polish created with natural ingredients, water, and mineral pigments, available in 23 shades. There is also a Peelable Mineral Nail Polish, that requires no remover, and is available in 8 gorgeous shades! Polishes won't stain the nails, nor will they dry out your nail beds or surrounding skin. The Plant-based Natural Nail Polish remover's non-toxic formula is vegan, non-carcinogenic and biodegradable. The last product is a Plant-based Natural Nail Polish Remover Gel + Cuticle Balm Cap, which is also non-toxic and non-drying. Both removes are safe and effective on all polishes including gel and shellac.
Suncoat also offers a line of water-based nail polishes for kids, called SuncoatGirl.