Today Samsung's CEO, DJ Koh, and his team unveiled the newest addition in the Galaxy Note series, the Note 9, which will be available come August 24. The phablet comes in two models, one at US$999.99 (just over CAD$1,300) and the other at $1,249.99 (CAD$1,550+). Each come with a 4,000mAh battery that boasts an all-day battery life. This is the largest battery for a Note we've seen.
The Galaxy Note 9 has its biggest screen to date too, with a 6.4-inch quad HD super AMOLED 'Infinity Display', and just like the Note 8, it's dust and water resistant and includes the integration of Bixby, Samsung's virtual assistant. Colour wise, you can opt for either blue or pink/purple.
This is the new Samsung Galaxy Note 9.

Beautiful screen, better battery life and a multi-purpose stylus.#unpacked @NewstalkFM pic.twitter.com/vnL7kFdEgK

— Jess Kelly 👩🏻‍💻 (@jesskellynt) August 9, 2018
There's a dual 12-megapixel camera (with a new Scene Optimizer mode to analyze objects and apply adjustments to saturation, and detect and correct blurriness, among other AI integrations), a 3.5mm headphone jack, and now dual speakers come at both the top and bottom of the phone, which is an improvement from the Note 8. Also at the bottom, you'll find the S Pen, which comes in yellow or purple, and it scribbles in the colour it comes in (so a creamy, bold yellow for example).
At the unveil they did a quick demo of the S Pen, which has the same push-click button at the top and can be used to pause/play music, but now it also has Bluetooth connectivity as well as its own small battery inside. Samsung said after a charge of less than a minute the battery will last for 30 minutes. The S Pen remains a key component of the phone and will stay true to its precision and responsive nature, says Samsung.
If you have the Note 8 it may have annoyed you that the fingerprint scanner was smack dab next to the camera lens, well this has been changed on the Note 9. The fingerprint scanner has moved down.
Samsung said the Note 9 will come into two models: a model with 128GB of storage / 6GB of RAM and the other coming with 512GB of storage / 8GB of RAM. There's also a microSD slot so if you're concerned about storage, don't be. Seriously that's a lot of storage and we're thankful for that.
Fans of Fortnite will be pleased to hear that there's a promotional offer which gives you 15,000 units of Fortnite currency (V-Bucks), available if you pre-order before August 24. If Fortnite isn't your thing they're also offering noise-cancelling headphones from AKG. Those that want both can do so by paying $99.
Samsung announced they've partnered with Spotify to create a "seamless experience across all devices" and "music will follow you wherever you go" meaning you can easily navigate between devices without having to recalibrate. In the demonstration they showed how you can move from listening on your phone to listening to the music play on your TV with the push of a button, and then should you switch to the kitchen, because you'll have a Galaxy Home to play it on there too, naturally, you can play it off that device instead.
The company briefly got into Galaxy Home and how Bixby will integrate into the speaker system, but details are scarce for now. We did hear there will be eight microphones and six built-in speakers though. Also, to command it, you'll say "Hey Bixby" and then can request it to find information, and so on. They did an example that showed them ordering a car to New York's JFK Airport, which happened fast and detailed the price of the ride, immediately.
We're expecting to hear more about Galaxy Home and its price soon, maybe more information will be out during the Samsung Developer Conference, which takes place November 7 and 8 in San Francisco. Or before then.
They also announced the company's Galaxy Watch which will come in three colours and two sizes and will be sold for US$330 (CAD$360+) and US$350 (CAD$380+), depending if you get the 42mm or the 46mm face. The watch is water resistant and comes with LTE connectivity as well as a high-resolution AMOLED display, and the team said the charge will last for days.
The Samsung Galaxy Note 9 is available for pre-order starting Friday, August 10 at 12:01 AM ET.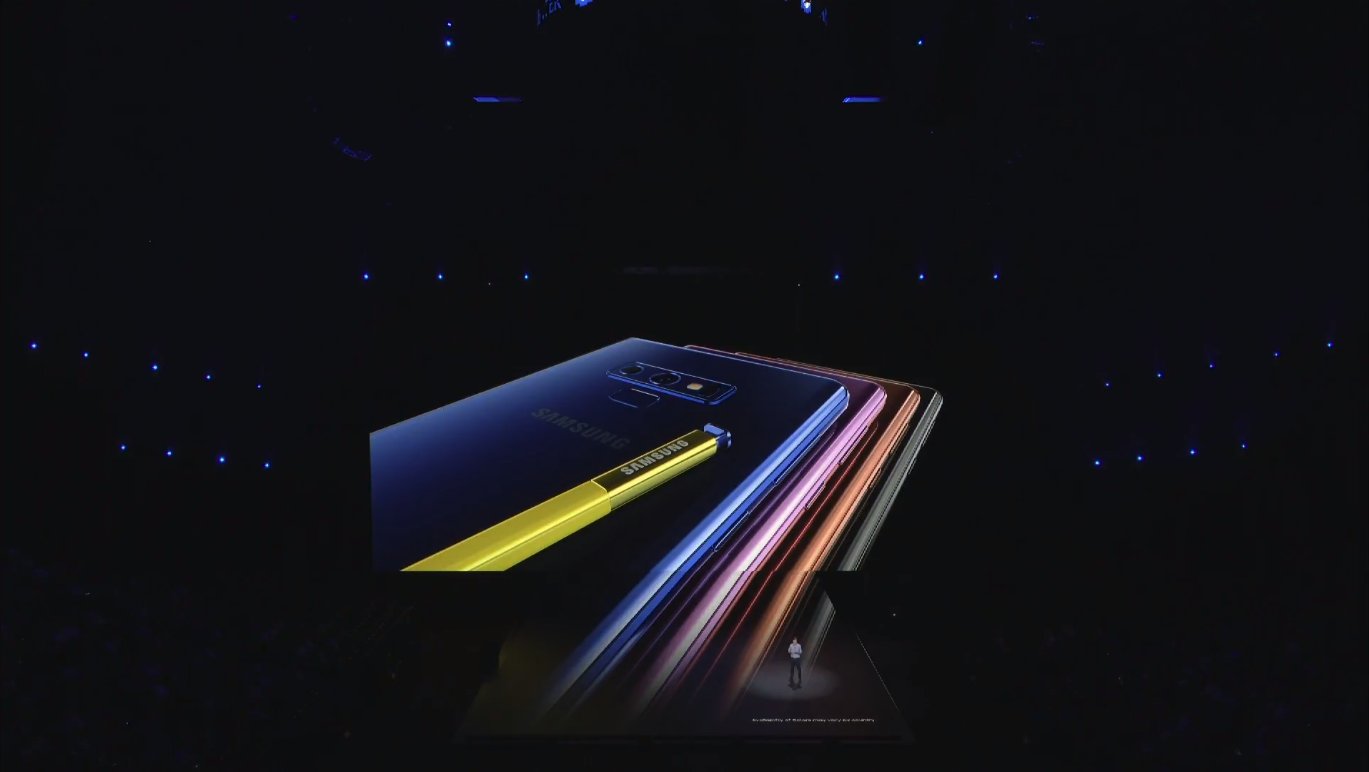 *Note: the Samsung Galaxy Note 9 comes in four colour themes, but only the two mentioned above are available in the US and Canada. The full list: Ocean Blue, Lavender Purple, Midnight Black (we're not sure why this isn't offered here) and Metallic Copper.
Photos: @Samsung