The Interior Design Show (IDS) has seen well over 650,000 attendees during the past two decades, all readying to load up on new ways to think, work and live. This year marks the 20th season featuring wall-to-wall installations and demonstrations from national and international design professionals and architects, once again making Toronto their canvas.
Here's our scrapbook of what we saw, loved and want to follow.
MIELE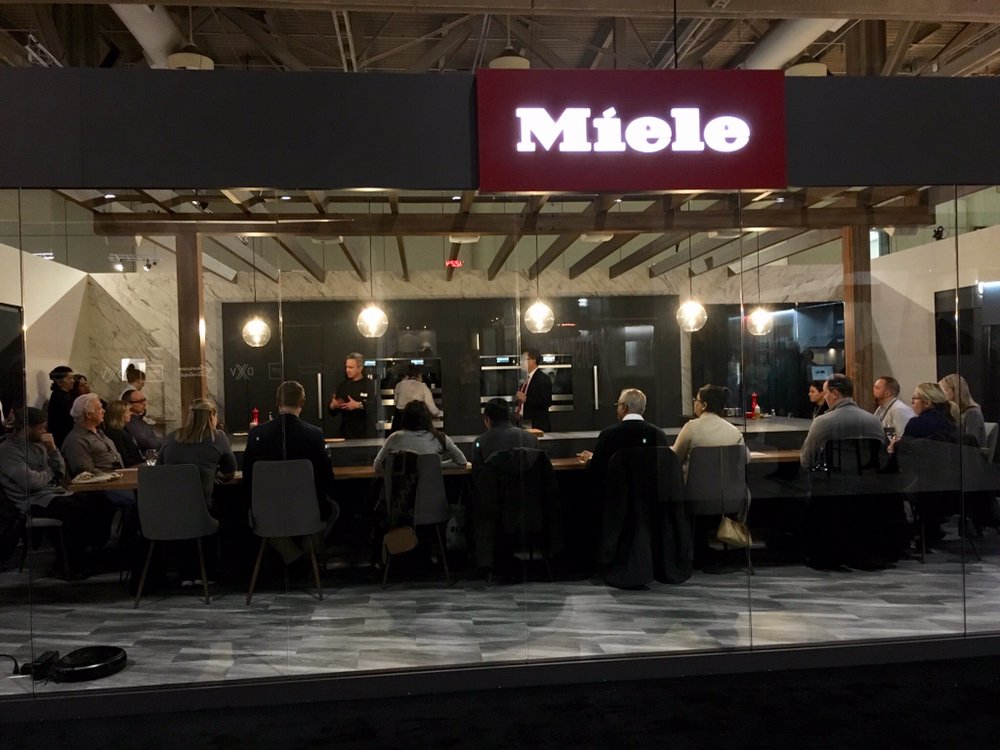 Miele made its presence known, highlighting home appliances and kitchen builds including a mock setup of the dining experience, which won the Gold Award at IDS. Every hour the team would recreate a four-course meal for guests. The German manufacturer, which designs everything from vacuums to coffee makers, did other demonstrations such as showing their MasterCool™ refrigeration process and their "perfect results" washing system. The latter came with a highly entertaining gentleman in a lab coat, administering the solution testing. We liked him.
Going for gold!! Miele's private culinary experience won the Gold Award at IDS! @IDSToronto #miele #ids2019 #lifebeyondordinary #exhibitdesign pic.twitter.com/8P8MCL3pej

— The Taylor Group (@TaylorGroupInc) January 18, 2019
'Trends 2019' with Lynda Reeves & Brian Gluckstein

Catching the chat between two of Canada's most recognized names in home design was a necessary stop on the 3.5-day event. Knowing the trends to follow in 2019 sure can help. It was nice how the audience got to participate in the overall talk as well, holding up paddles to agree or disagree with certain items, ideas and aesthetics such as the all-white kitchen.
2019 TREND: lower coffee tables
Brian Gluckstein really loves coffee tables but finds they're simply too high being that tables typically rest at the same height as sofa cushions. Gluckstein thinks coffee tables that measure 9 to 12 inches will be a trend we'll see in 2019.
Do/Don't note: Something that surprised the two experts was how many people still love black window frames. The experts advised not to do a black paint on chunky windows, on thin walls, yes, but not chunky. If you're looking for an easy way, Reeves suggested painting just the inner frame as "it's a graphic statement and you don't need drapes."
Big question: One of the surefire questions that Reeves asks clients is whether or not they like to look or like to live?
The pair also discussed colour trends to follow.
Three fashion colours to use and love in 2019:

Stuart Gold (HC10) at Benjamin Moore
Rangwali (296) at Farrow & Ball
Tropic of Conversation (SC 194-3) at Beauti-Tone (exclusively at Home Hardware)
This is meant more as an accent colour and is part of the 2019/20 colour collaboration between Canadian fashion designer Simon Chan and Beauti-Tone, one of the biggest names in Canadian paint manufacturing.
Tropic of Conversation is also Beauti-Tone's 2019 Colour of the Year.
Courtesy of: Home Hardware / Beauti-Tone
I think you should be building for the time you're in. – Lynda Reeves
Seeds by Marije Vogelzang presented by Caesarstone
A must-see debut was the collaboration between Caesarstone and Dutch "eating designer" Marije Vogelzang. Entitled Seeds, the installation was dedicated to the appreciation of food and relationships. Think about feeding food to someone through a hole and then think about doing this with strangers; it's this kind of headspace that's entered.
The designer is known for immersive design storytelling, from eating pasta while steam rises in a sauna to sitting down in a 10-unit installation of one-on-one eating conversations (Eat Love Budapest), Vogelzang's work invites a wave of senses all at once.
Vogelzang summons our associative selves and watches how bodies respond to tasks. Seeds puts guests in different spaces, engulfed in coloured ribbons. Before entering one of the areas, participants put on a headset and were instructed to eat one of the two seeds provided. Vogelzang referenced The Matrix—choosing the red or blue pill—as inspiration here. More instructions ensued. It was a 'listen and do' type of experience where participants manually ground down seeds and could taste some trickling water. An experience where you stagger into a back-to-basics human recasting of sorts. Some saw it as a nice way to escape the outside noise, while others were keen to understand what this was supposed to do to their bodies and minds. Whatever overall ethos came of it, it was nice paying attention to what makes us human: sight, smell, sound and touch. Vogelzang reconnected us.
In this rushed and digital time, food can be our connector, through the senses to the essence of what life is. Emotion, connection and wonder. – Marije Vogelzang
RE-SPACE
Re-Wrk
Stepping in and out of work, live and learn spaces to find out the setups best suited for our style and daily work layout was a welcome find at IDS. The Re-Wrk Space (WRKkit), which was designed by Toronto's SDI Design, was a personal favourite and it all begun by taking an on-screen test. Participants were asked to answer questions based on their preferential work setup: do they work better in seclusion with headphones on? Do they work from home? What equipment and tools do they need to do their best work? What type of industry do they work in? After this questionnaire was completed, findings pegged what type of worker one was. Options included the Multi-Tasker, the Socialite, the Programmer, the Deal Maker and so on (there are seven personalities in total). Each personality came with suggested furniture and layout configuration. The test was designed by SDI's Noam Hazan and the life-size kit was reconfigured every three hours at IDS, giving viewers a look at the varying structures. The overall results from the test have just been released so have a look if you're interested.
RE-Liv
Switching gears, Re-Liv placed us in seclusion so that reconnection to self could be shaped. If you've ever done a float or any mind-to-body exercise where it's just you, thoughts and space, you may have been dealt a similar feel. A waterfall greeted you in one corner while you planted yourself in a confined space, but the beauty was you somehow felt less isolated and more aware of the regrouping practice that faded away the sounds and hustle of the day. There's not a lot of space to move around in and that's part of the decompress. This installation came from Polymetis.
RE-Lrn
The Re-Lrn Space had participants wait before entering different learning pads. Three isolated spaces prompted concentration and potential learning. The first area was a one-block learning cell. The second cell was for pairs and the third spoke to the mentality of collaborative group learning. Each space was powered by Microsoft's learning devices (a.k.a tablets to play with) to help encourage participants to think about how environments influence one's learning ability.
Wallumination was a busy booth that had lightbox fixtures of varying size. The lightbox is powered by a 12-volt adapter and you can plug it right into a wall outlet. These are great additions for livening up photos and can fit in everywhere from the dentist office to the bedroom to the wine cellar. Apparently some IDS-ers were interested to see if this could be done on doors. Maybe next year?
When it came it to wall art and frames, 40-year veteran PI Fine Art won us over. Pretty sure you can see why below. These folks do everything from posters to mirrors to wall sculptures to resin finished art, and they do it well. The creative guru behind the company, Esther Cohen, recently received the prestigious NEWH ICONs of Industry Award (2018). PI Fine Art also received second place at this year's IDS Booth Awards (for the 50 to 199 square foot booth category).
One operation we're definitely putting on the 2019 (and beyond) watchlist is COFO Design. Their home furnishings and products are refined, exciting and functional. Plus, everything is made in Canada using sustainable materials. This was one of our top design aesthetics from IDS, no question.
Their 2019 Design Challenge, which brings in young designers, is open for submissions now.
A final nod goes to W Studio and their mix of decorative carpets, which are handwoven and take your breath away. There were plenty of selections from the W Studio x Christopher Bates collaboration as well as striking techno-printed wool carpets from W Studio's work with prolific designer, Karim Rashid. The booth held prime real estate on the IDS floor, that's for sure.
Top 3 design agencies to watch in 2019:

More of our favourites from IDS 2019 below.

Photos courtesy of IDS