There's only two months till the holidays! Because we haven't quite reached the Holiday Glam month yet, we decided to a highlight a few more of our makeup staples for fall. We always find bold lip colours, gem tone smokey eyes look better in the colder months, and you don't have to worry about sweating them off. So here goes, hope you enjoy our picks for October!
Anastasia Beverly Hills – Tamana Palette
The Tamana Palette is a new addition to our makeup kit. We're big supporters of Anastasia Beverly Hills products, and by that we mean we own almost everything, so naturally the Tamana Palette was a must have. The eyeshadows in the palette are gorgeous, they apply very smoothly are deeply pigmented. The combination of colours, look great with all skin tones, and will really warm up your peepers for the fall and winter.
Kat Von D – Star Studded Eye Shadow Palette
This palette gives us chills, we love it so much. It's obviously one of the more versatile products in this months feature, since you can wear many of the colours year round. The one thing we like about Kat Von D's shadows, is that they're true to colour; meaning what you see in the palette is how they appear on your eyes. They're extremely pigmented and the colour selection is excellent. If you love makeup and you find yourself at Sephora struggling to earn some extra Beauty Points, pick this sucker up, it's definitely worth it.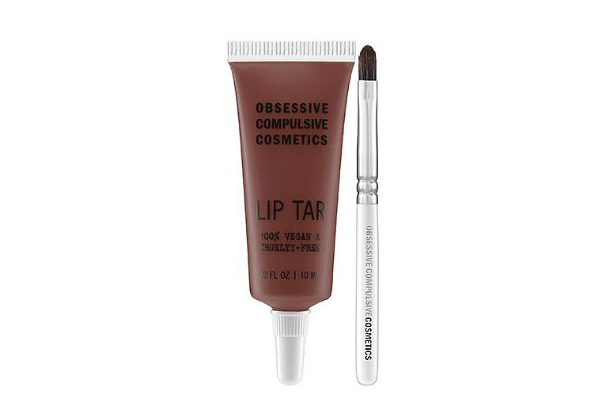 Obsessive Compulsive Cosmetics – Lip Tar Matte in Anita
We are die hard OCC fans. Some people collect coins or stamps, we collect Lip Tar. Anita is a beautiful, brownish burgundy that dries matte. It looks great alone or with a clear gloss over top and is the perfect shade for fall and winter!
M.A.C. Cosmetics –  Heirloom Mix Glitter – Antique Gold
Just like Ke$ha we love glitter. Maybe not as much as Ke$ha but you get the point. M.A.C.'s new Heirloom Mix Collection is overall, a great collection, but the Antique Gold Glitter is probably our most favourite piece. This M.A.C. Glitter can be used alone for a more refined, sparkly look or combined with other products such as a cream base or a paint pot for a seriously gilded look.
M.A.C. Cosmetics – Heirloom Mix Eye Kohl Pencil – Prunella
The Prunella Pencil is probably our second favourite piece from the M.A.C. Heirloom Mix Collection. It's a great alternative to your regular black kohl liner and the perfect shade for autumn. This pencil sits great in the waterline, and looks especially good if you have blue, green, or hazel eyes.
Benefit Cosmetics Majorette
This is a new product for us and though we have only used it a few times, we already love it. Majorette is a cream to powder blush, that gives your cheeks an extra little glow. For an extra cheek boost, use Majorette underneath your favourite blush, plus this product smells like peaches and pomegranate, YUM!
Burberry Body Oil
This is not a new scent, however we did want to talk about it because it's just so darn good. The Burberry Body collection is very fruity and light, with notes of rose. We love every part of the collection, from the perfume to the cream, but the Body Oil is our new obsession. We love using oils as moisturizers and Burberry's is especially wonderful because it's not very greasy and it smells beyond delicious. If you are ever in the market for a new scent, this is one you should try.
Dr. Roebucks – Bubs & Bits
We love, love, love this product. It's new to Canada and besides the adorable name, it works like magic. The Bubs & Bits (love saying it over and over) was created for soothing all those irritated skin patches post shave or wax, or any kind of diaper rash. Basically anywhere a sensitive body part is involved, Bubs and Bits can help. The cream will not only help with rehydration, it will also help soothe and fix any irritated area. Bits and Bubs is also BPA and Paraben Free!