Similar to TIFF, the New York Film Festival has pivoted for 2020, and while TIFF sees some access to in-house film screenings, NYFF has made all its talks and screenings exclusively available online or through drive-in screenings. Still, NYFF has gone ahead and joined Venice and Toronto to curate films during this new cinema time in the world we find ourselves in, while Cannes, Telluride and other festivals cancelled their productions until 2021.
The 58th edition of NYFF starts September 17 and runs through until October 11.
Steve McQueen's Lovers Rock will kickoff the festival on opening night, screening at multiple drive-in theatres in Queens and Brooklyn. Even the Bronx Zoo will play host to a drive-in screening experience of Lovers Rock on September 23. This is McQueen's first portion of his five-part Small Axe miniseries, and viewers can opt to watch two other episodes from that series, Mangrove and Red, White And Blue, during a four-hour window online. French Exit, which stars Michelle Pfeiffer and Lucas Hedges will close the festival.
This year will include films as part of the Main Slate, Spotlight, Currents and Revivals. Free films will also be available.
Crosscuts chats will see filmmakers paired with other filmmakers from differing genres and styles. For example, Garrett Bradley (Time, Main Slate) will be paired with Ephraim Asili (The Inheritance, Currents), Sam Pollard (MLK/FBI, Main Slate) alongside John Gianvito (Her Socialist Smile, Currents), and so on.
Roundtables such as Outside the Canon will see panellists from Light Industry, Spectacle Cinema, and No Evil Eye micro-cinema, among others. Rethinking World Cinema highlights underrepresented filmmakers that are changing the way festivals are imagined. The Revolution Will Be Filmed will host a panel about global protest movements and police brutality.
All talks are being presented by HBO and have been organized by Devika Girish and Madeline Whittle, working alongside Eugene Hernandez and Dennis Lim. And did we mention these talks are free worldwide? You can register here. There will also be Q&A options during the talks, which will be aired on the Film of Lincoln Center YouTube channel.
Here are the films we're most excited to check out.
On The Rocks
The film stars Bill Murray and Rashida Jones as Felix and Laura, who play father and daughter. The two are trying to get to the bottom of Laura and her absent husband Dean's (Marlon Wayans) relationship. Felix suspects Dean is having an affair, mainly because he is a player himself and believes all men are cut from the same cloth. Together, Laura more reluctantly, seek the truth. But the gift that comes of their escapades, set in New York City, becomes about their bonding as father and daughter more than anything else. It is written and directed by Sophia Coppola.
Tragic Jungle
This film from Mexican filmmaker Yulene Olaizola follows a group of Mexican gum workers deep into the forest as they come upon Agnes, a beautiful Belizean woman who could be dangerous. What lies next among the trees is anyone's guess. Not much is given away in the trailer, other than these men are trying to ward off being killed by the English. We expect it to be intense and provocative. Tragic Jungle, Olaizola's fifth film, is one that appears on many must-see lists for 2020.
French Exit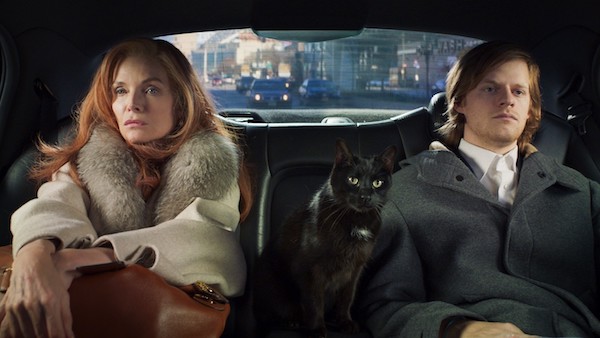 What a duo to watch. Michelle Pfeiffer and Lucas Hedges play disgruntled socialites in this dark comedy that is making its world premiere. Now facing insolvency, the widowed Francis Price (Pfeiffer) flees New York for Paris and brings her son Malcolm (Hedges) with her, oh, and their cat too, who's voiced by the acclaimed actor and playwright Tracy Letts. As per the synopsis, the two soon "reckon with their pasts and plan for an impossible future, all while their social circle expands in unexpected and increasingly absurdist ways." It comes from Azazel Jacobs and Patrick deWitt, who worked together on the 2011 feature Terri, which starred John C. Reilly. The film is an adaptation of deWitt's best-selling novel of the same name.
Hopper/Welles
New Photo: 'Hopper/Welles,' Orson Welles' new Venice Doc based on conversations w/himself & actor Dennis Hooper. See the exclusive poster here: https://t.co/RdZZ5tfpHs

Most Anticipated Films of the 2020 Venice Film Festival here: #Venezia77 https://t.co/IBEEI46uPZ pic.twitter.com/0sJ4AOGItE

— The Playlist 🎬 (@ThePlaylist) September 6, 2020
First premiering at the Venice Film Festival, the film highlights a conversation had in 1970 between Welles and actor/director Dennis Hopper, whom had just made Easy Rider. It is never-before-seen footage of the two, meshed together by producer Filip Jan Rymsza and editor Bob Murawski (The Hurt Locker). Footage was taken from the unfinished Welles film, The Other Side Of The Wind. Cameras capture the two discussing filmmaking, Easy Rider, and Welles flew Hopper to Los Angeles for the unscripted interview, where Welles serves as the interviewer. It runs for 130-minutes.
Time
Time first premiered at Sundance, where Garrett Bradley won for the best director in the U.S. documentary competition, making her the first Black woman to win the prize. The film looks at the prison-industrial complex and mass incarceration in the United States, It centres on Fox Richardson, an entrepreneur and mother-of-six who has spent two decades trying to get her husband Robert, who is serving a 60-year prison sentence for a robbery he committed in the early '90s, out of jail. The film features recordings and footage of Fox, and following this screening the film will debut in select theatres on October 9 before it lands on Amazon Prime Video on Oct. 23.
Isabella
Matías Piñeiro explores the art of the audition in Isabella. The film focuses on Mariel and Luciana; one is a teacher aspiring to become a bigger presence as a stage actor and the other a more experienced actress. From watching the trailer, the story seems to is be steered with subtly, complete with time lapses between then and future moments. It just looks interesting.
Photos courtesy of New York Film Festival