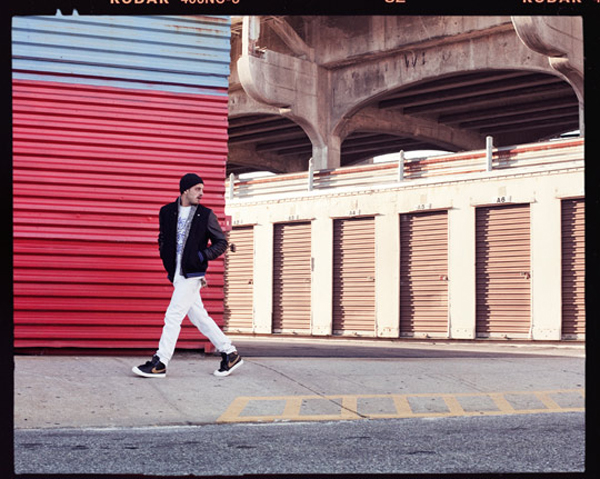 We are happy to present to you the collaborative project by Stussy and Nike Sportswear for Holiday 2010. This capsule collection features two All Court Mid sneakers with black and respectively white premium leather uppers and yellow exotic leather accents. There is also a pretty slick Nike Sportswear NSW x Stussy Destroyer Jacket and a t-shirt that are pretty hot! The official release date fore this collabo is December 1st. Here is the official propaganda from the press release:
In the last ten years, NIKE has collaborated with Stussy on many different projects and to celebrate a decade together they have combined forces to produce a pinnacle version of the NSW Destroyer jacket.

This silhouette has become an iconic feature in the Stussy line and in the last 18 months Nike Sportswear have brought their own innovations and personality to the garment for sport and style lovers around the world.

Stussy's Creative Director Paul Mittleman got his hands on Nike Sportswear's version and picked up the phone: "Some friends at Nike sent me one of the Destroyer jackets a while back and I loved the way Nike had taken the jacket and brought some of their innovation and technological skills to it. They'd taken it to the next level. As we've had a long-term relationship with each other, I got on the phone with the guys and suggested that we get together to create a NSW x Stussy Destroyer. It went from there really"

The jackets ability to combine luxury, sophistication, innovation and sport are its signature qualities. A double-layered waterproof and thermo-insulated body deliver maximum warmth whilst delivering one of the lightest versions of its kind.

The collaboration also sees two limited edition Nike Sportswear Stussy All Court-Mid's coming in black and white with a leopard print swoosh and three tees celebrating ten years of working together. Fraser Cooke of Nike, Mittleman's "partner-in-crime" on the collaboration said "Both brands have been part of street culture for the last three decades and even before we began to collaborate the original Stussy tribe were adopting NIKE shoes as part of their look. So for both brands this has been a really natural collaboration"

All products from the collaboration are available from Dec 1.