Well, that went from zero to hundred, or perhaps since it is the weather it is better to say that it went from hundred to zero. With the sudden drastic change in temperature, you know, winters coming, you need to make sure that your skin is in tip-top shape. As such we have once again compiled a serious list of grooming products and accessories to help you stay in dashing good form.
Rebels Refinery Rehab Roller Under Eye Treatment
Didn't get your full 8 hours of sleep? Well, make sure you keep those bags out from under your eyes with Rebels Refinery Rehab Roller Under Eye Treatment. This under eye treatment gives you a blast of botanicals and caffeine that work to reduce puffiness and dark circles. Not bad considering it's only $15. Get yours here.
Rebels Refinery Sandalwood Bar Soap
Puffy eyes is one thing, but you also have to actually be clean. Rebels Refinery also has a fantastic sandalwood bar soap that works to cleanse and refresh your skin. Leaves your skin soft and smooth with the exotic, peppery scent of sandalwood that is utterly irresistible. Plus it looks cool. Order yours here.
The Baxter of California DE Razor
Whether you have facial hair or you're clean shaven, every man needs a quality, well-proportioned razor. The good folks over at Baxter of California understand this and got you covered with their custom chrome-plated Double-Edge (DE) Safety Razor. The razor helps reduce ingrown hairs and razor burn, and will last you for years to come. The blade comes packaged in a black gift box, which is sweet, and is accompanied with a pack of starter blades and an instructional card. Pick up this finely crafted shaving tool now, here.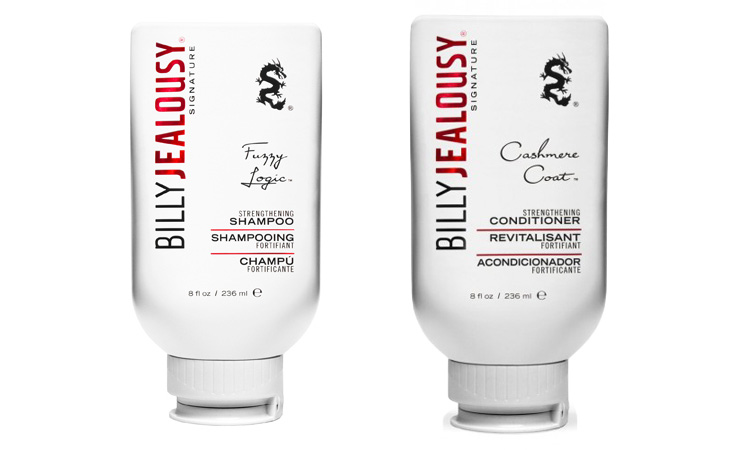 Billy Jealousy Fuzzy Logic Shampoo & Cashmere Coat Hair Strengthening Conditioner

This shampoo and conditioner combo from men's grooming specialists Billy Jealousy will keep you hair clean and looking good. Loaded with DHT blocking agents, the shampoo stops hair loss while protecting and nourishing your hair with a refreshing peppermint scent.
The shampoo works best with the Cashmere Coat Hair Strengthening Conditioner, which protects your hair from the sun, wind, pollution of everyday life. Also infused with peppermint and full of DHT blockers, Cashmere Coat will restore strength, volume, and essential hydration to your precious hair.
Get the Shampoo and Conditioner.
MenScience Advanced Body Lotion
MenScience Advanced Body Lotion is a multi-faceted moisturizer that works to hydrate the skin as well as restore skin elasticity, nurture and repair, all without leaving a greasy residue. Protects against environmental aggressors and works to brighten your complexion and getting rid of dry, dull skin. Order yours here.
Anthony Shaveworks The Cool Fix Aftershave Gel
The Cool Fix Aftershave Gel is the ultimate burst of cooling refreshment that works to soothe and calm your skin after shaving. Targets shaving irritations such as razor burn, bumps, redness and ingrown hairs, helping to protect your skin's condition and your smooth shave. Formulated to kill bacteria and release trapped ingrown hairs beneath the skin. It is pretty much the a must try for all men who have ever shaved. Grab a bottle for yourself here.