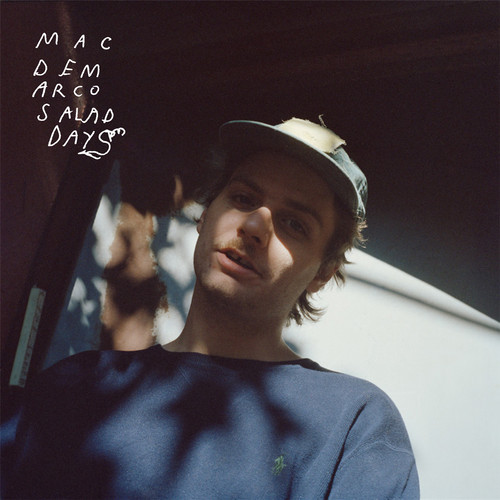 Mac DeMarco has announced the release of his highly anticipated second full-length LP Salad Days, the follow up to Mac DeMarco 2, who's sound created soulful growls and croons set against some lilting guitar made DeMarco a household name.
Written and recorded whilst touring, the songs on the new album displays Mac's widening sound with icy synth stabs in "Chamber of Reflection" and overdriven organ chords in the lead single "Passing out Pieces".
Salad Days will be released April 1, 2014 (via Captured Tracks). In the mean time, you can pre-order the album here or have a listen to the album's first single "Passing Out Pieces" and get a taste of that familiar easygoing weirdness that can only come from DeMarco.
Mac DeMarco has also announced a length American and European Tourin the next couple of months which ends in Toronto for NXNE Festival! Check out full list of dates below.
Tour Dates
01-29 Los Angeles, CA- Echo &
03-14 Santiago, Chile – Ex OZ
03-15 Buenos Aires Argentina – Vorterix
03-19 São Paulo, Brazil – TBA
03-20 São Paulo, Brazil – TBA
03-21 Porto Alegre, Brazil – Beco 203
03-23 Santa Ana, CA- Burgerama at The Observatory
03-31 Cleveland, OH- Beachland Ballroom *
04-01 Oberlin, OH- Dionysus Club (the 'Sco) at Oberlin #
04-02 Chicago, IL – Empty Bottle + (early show)
04-02 Chicago, IL- Empty Bottle # (late show)
04-03 Detroit, MI- Magic Stick *
04-04 Wakefield, QC-Blacksheep- *
04-05 Sherbrooke, QC- Boquébierè *
04-06 Montreal, QC- Societe des Arts Technologiques *
04-07 Cambridge, MA- Middle East Downstairs *
04-09 New York, NY- Webster Hall !
04-10 Durham, NC- Duke University Coffeehouse +
04-11 Atlanta, GA- Goat Farm Arts Center +
04-12 Baton Rouge, LA- Mud and Water +
04-13 Austin, TX- Mohawk Outside +
04-14 Fort Worth, TX – Lola's Saloon +
04-15 Oxford, MS- Proud Larry's +^
04-16 Nashville, TN- Exit / In +
04-17 Asheville, NC- Grey Eagle Tavern +
04-18 Philadelphia, PA- Underground Arts +
04-25 New Orleans, LA- Tulane University
04-26 Bronxville, NY- Sarah Lawrence College (Solo Set)
05-15 Amsterdam, AN- Melkweg
05-16 Paris, FR- Trabendo
05-17 Nantes, FR- Stereolux
05-18 Brussels, BE- Nuits Botanique at Botanical Cultural Center
05-19 Brighton, UK- The Old Market
05-20 Glasgow, SCT- Mono
05-21 Manchester, UK- Sound Control
05-22 London, UK- Koko
05-23 Cologne, DK- Electronic Beats @ E Werks
05-24 Berlin, DK- Bi Nuu
06-20 Toronto, ON- NXNE Festival
06-21 Toronto, ON- NXNE Festival
& RSVP Show w/ Puro Instinct (Red Bull Sound Select Series)
* Amen Dunes & Juan Wauters
! Amen Dunes, tonstartssbandht
# Amen Dunes
+ Juan Waters
^ Dent May