Clockwise from left to right: Filson Magnum Backpack, Fuji Film Camera, Mophie Portable Battery, Camera Lens, Louis Vuitton Passport Holder & Wallet, Ray-Ban Wayfarers, Sidewalk Hustle Business Cards, Jason Markk Sneaker Cleaning Wipe, Extra Headphones, Kiehl's Travel Kit, Tissot Watch, An Assortment of Hats.
There's nothing more thrilling than travelling. Packing up your bags and hitting the proverbial road to explore parts unknown. Arriving in a foreign place, getting your bearings, and wandering the streets discovering new restaurants, shops, and making new friends along the way. I never like to plan things in too much detail when travelling, because allowing yourself a little spontaneity can often result in the very best of memories.
At the end of the day it's best to arrive prepared and the one thing I'm never willing to compromise on is skincare. From an early age, my mother taught me to look after my skin, so when I travel I always pack a few key essentials. These are products I use everyday that I won't risk living without, for even one night in a hotel. I always carry them in my carry-on bag alongside my camera and other personal items, because… you never know what might happen. In my luggage, I have all sorts of other additions but it's in my carry-on I never forget my essentials.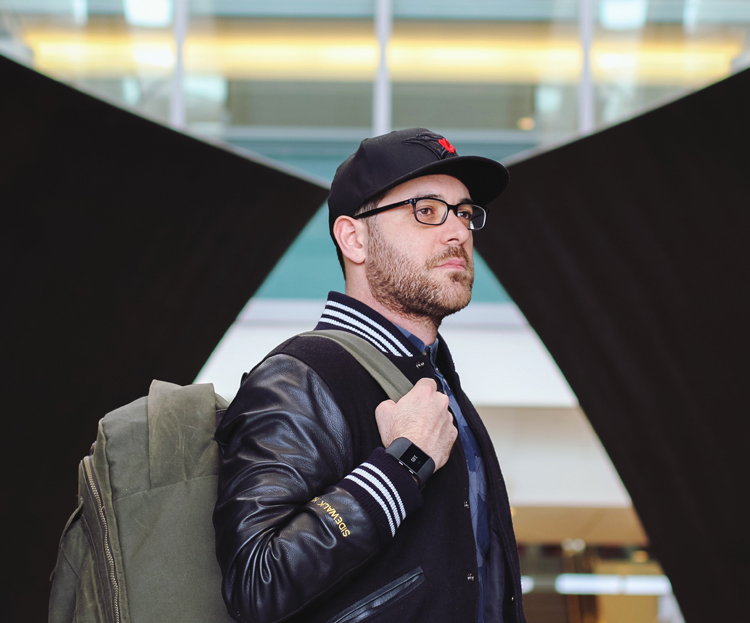 The actual carry-on bag you choose is so important. For me I have the Filson Journeyman Backpack from their Magnum collection which is designed specifically to carry camera gear, which takes up the bulk of my bag. It's roomy, efficient, and its waxed canvas exterior makes it water repellent. I can load in all sorts of equipment, as well as some personal items with lots of room to spare.
Recently I've been packing Fuji Instax camera, mostly just for fun. People love the idea of a "polaroid" so when you whip out this bad boy, it helps cut through any potential awkwardness that often ensue when pointing your DSLR at someone. Plus the pictures have that old school vintage feel and always make for a fun keepsake when travelling.
One of the most important things in my bag is a portable phone charger. I do a lot of work on my phone when I'm travelling, so making sure I'm never disconnected is always a priority. Additionally, I usually carry several different lenses for different situations because you'll never know what you'll need to get the shot.
I'm also never without my Louis Vuitton passport holder and James wallet. I suppose you don't need a passport holder, since the TSA and customs officers make you take it out, but come on, who doesn't want to flex hard. You're already traveling, so why not show everyone you do it with class and style.
As far as my skincare essentials go, my absolute must-pack items are pretty straight forward. I always pack Kiehl's Creme de Corps, which I use multiple times daily. Staying moisturized is almost a religion for me since I've got multiple tattoos. I like to keep them hydrated so it slows down the fading process, especially when travelling, since flying tends to really dehydrate the skin. Also, no one likes a dude with ashy elbows.
I also always make sure to pack Kiehl's Amino Acid shampoo and conditioner (especially since it seems conditioner is considered a luxury item in many hotels and often not provided). I fell in love with the Amino Acid range nearly a decade ago at a hotel in Paris and have always packed it when travelling since.
Lastly, I always carry the Kiehl's Ultra Facial Cleanser because you'll never know when you'll need to wash your face on the plane. I find it especially helpful to create a routine on longer flights to help me sleep, even if it's only for a limited number of hours.
Finally, a few other bits and pieces.
My Ray-Ban Wayfarers are the epitome of classic and since I have prescription lenses, I never leave home without them. Business cards because, networking. Jason Markk sneaker wipes in case of any airport scuffs. Headphones, always, because music is life. And although I generally don't wear my watch on the plane, I like to keep it in my carry on until I land.
Aside from the hat I'm probably wearing, I also carry a couple back up's in my bag, just because.
Now that you've seen what's in my bag when I travel, take a moment to watch men's style expert and Kiehl's partner Nick Wooster share his travel tips and tricks. Press play below now and stay tuned for more.
Welcome to Sidewalk Hustle's essentials series where we highlight products from style icons and personalities from around the world.