With only hours to go before the 5 red lights countdown to start the 2022 F1 season – can you hear that rumble, those new regulation, ultra-wide tires hitting asphalt in Bahrain vroo-boom-boom–ing?
For some of us in North America, Netflix's docu-ish series Drive to Survive instigated F1 interest when it dropped in 2019 – or 2020, even if it took draining need-to-watch lists to get too. Since then it's turned into true F1 fandom and we're ready to roll.
What to know (starting with why to follow the races, not just wait for DTS) and what to look forward to for F1 2022, including a couple of our own musings.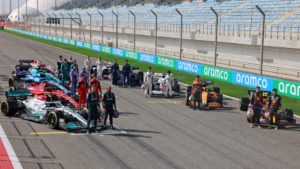 Why to watch, now:
Last year's champion chose not to appear in the recent season of DTS and as far as we know won't be in the next – we don't want to miss out on any of the 20 racers who take the track – including the defending champion Max Verstappen.
If understanding the technical side has been your barrier to entry until now, join us all (teams included) on the starting grid.
2022 is bringing a whole new set of race and car regulations. Everyone is still just figuring them out. If it helps too, the F1 race commentators are actually great at giving during race explanations of rules and if they can't they're also great at commiserating in confusion with us too.
It will amp. you. up. for the next season in 2023 – and don't we need more reasons to be excited for TV these days?!
AND, a little recap:
As spoiled above, the point for point battle between veteran 7 time world champion Lewis Hamilton of Mercedes (Sir Lewis now, he was knighted summer 2021) and relatively new, young Max Verstappen of Red Bull, ended in a very controversial Max-win. It was contested through the off season by Mercedes but ultimately – Max is the champion (queue Queen).
This year, both racers have already been vocal about bringing it again. Lewis Hamilton is still going for the 8th win to finally take the world record for world championship wins from F1's greatest legend Michael Schumacher. Mick Schumacher, son of the legend, will be back for his second season on team Haas. Last year didn't go so well for them, hanging out mostly at 19th and 20th …of 20 on the grid, but this year is looking up. They very recently re-signed fierce and fiery Kevin Magnussen (a first and second season of DTS face) after letting go of their sponsor Uralkali following the invasion of Ukraine, and with it the contract of driver Nikita Mazepin. In his first few times on track it looks like he'll bring some heat for Haas.
Mercedes still came out on top as constructors' champions in 2021, followed by Red Bull and in third Ferrari who battled with McLaren for the spot. It looks like all four teams still have top hopes this year.
As promised a couple personal notes:
If you're a Canadian hockey fan, you're already great at rooting for the underdogs. There are not one, but two Canadians in cars this season . Not unlike the Leafs, we just like that they're out there and being notoriously nice. Send a little love to Lance Stroll driving for Aston Martin and Nicholas Latifi driving for Williams.
Love him or less than love him, Sir Lewis Hamilton is always bringing looks. He's been a fashion designer's favourite for the last decade, even appearing at the Met Gala a number of times – needless to say we always want to see what he will be wearing to the paddock each day.
One more moment for fashion, Lewis's previous teammate Valterri Bottas moved to Alpha Romeo this season. He and his second year teammate Zhou Guanyu started their appearances at the Barcelona trials in their cool camouflage car and fit. They'll race in  sophisticated red, but we miss the camo.
We are Canadian and you will catch us in red this year… red and yellow. Honestly, we love them all a little, but find Ferrari extra exciting. Teammates Carlos Sainz and Charles LeClerc really seem to be forming a great friendship which has made for some great racing results and fun YouTube content.
It's not even too early in the morning EST (there are some Sunday's later season that will be) so see you at 11EST March 20. To watch in Canada, stream it live on TSN in English & RDS in French. In the US it's on ESPN. OR sign up directly for Formula1 TV on their website for all races including Saturday qualifiers here.