Everyone knows the classic Gap logo, but you've never seen it like this before. Gap launched the Remix Project this week, where 11 artists from around the globe reimagined the brand's iconic logo using their own distinctive styles and artistic mediums as inspiration. The result: some rad wearable art, ranging from photographic collages to typography, from calligraphy to illustration.
The exclusive collection of 11 unisex t-shirts are available at select Gap locations across Canada, as well as online at www.gapremixproject.com.
#GapREMIXproject is available at the select Gap stores across Canada:
Toronto: Gap, Yorkdale Mall, 60 Bloor St West, Toronto Eaton Centre and Queen St. West
Montreal: Gap, Montreal Eaton Centre
Alberta: Gap, Chinook Centre
British Columbia: Gap, Robson Street
Check out the artist bios and their pieces, as well as a behind-the-scenes video about the project.
POSE, Chicago, USA
POSE uses bright colours and tight graphic stylings to create images that jump off walls. Inspired largely by the traditions of pop art, his work integrates illustration, lettering, screen print aesthetics, humor, and even violence. POSE's design for the REMIX Project reimagines the brand logotype within a contemporary portrait. The composition conveys modern expression and human experience as they are: constantly in flux, complex, and affected by environment and everyday experience.
KYLE PIERCE, San Francisco, USA
Kyle Pierce is an illustrator and photographer who enjoys building layered narratives from photographs, illustrations, and bits of simple hand-drawn type. Kyle's design for the REMIX Project is inspired by San Francisco, the city he lives in and where Gap was founded in 1969. His design presents the Golden Gate Bridge within a contour of the city borders, while letterforms and the brand logotype recreate the fog that so frequently graces "The Gate."
JESSICA HISCHE, San Francisco, USA
Jessica Hische is a letterer, illustrator, and crazy cat lady known for her silly side projects and occasional foul mouth. Jessica's design for the REMIX Project uses vintage-inspired typography made modern though context and colour. Mixing historical letterforms with modern graphic geometric decoration, she reinterprets the Gap logotype in a sophisticated and unexpected blue, teal, and yellow colour palette.
FANTASISTA UTAMARO, Tokyo or New York, Japan
Fantasista Utamaro is a leading manga and multi-medium artist. Known for ultra pop and technicolour sensibilities, his instantly recognizable work spans the fields of illustration, animation, graphic /textile / fashion design, and even outdoor landscaping. Utamaro's design for the REMIX Project hides the brand logotype within traditional Japanese "Karakusa" patterns, pop art colouring, and his signature Manga-styled characters. The piece represents hope for the development of cultures around the world.
CHOCO MOO (YUKA), Tokyo or Kyoto, Japan
Choco Moo is a street fashion illustrator and artist. Influenced by rock music, hip-hop, and traditional Japanese calligraphy, her work is always done in a signature black and white line art style. Choco Moo's design for the REMIX Project reimagines the brand logotype among iconic Americana imagery and the things that make her smile: music, fashion, partying, and the sharing of positive vibes with one another.
XOIL (LOÏC LAVENU), Thonons les Bains, France
Loic Lavenu is a world-renowned designer and tattoo artist acclaimed for pioneering an abstract graphic style of tattooing. His work pushes tattoo aesthetics into new realms inspired by digital illustration, photography, and collage. Loic's design for the REMIX Project positions the brand logotype within a collaged and transitional reflection of the things that inspire him: geometry, colours, lines, movement, and life's circadian rhythms.
MAUD VANTOURS, Paris, France
Maud Vantours is a designer and artist who works with layered, cut, and folded paper to create colourful 3D sculptures of hypnotizing patterns and textures. Maud's design for the REMIX Project is inspired by nature and dreamscapes. She re-imagines the brand logotype within a multicoloured and multilayered paper sculpture design that mimics the patterns of waves, mountains, and wind-blown clouds.
QUENTIN JONES, London, UK
Quentin Jones is an artist, filmmaker and photographer. Her aesthetic is a modern take on the surrealist tradition, realized largely through photomontage and loose paintwork. Quentin's design for the REMIX Project is inspired by fashion iconography. Her design combines the brand's logotype with simple but impactful collage and brush-work elements to create an ambiguous form composed of eyes, legs and letters.
NEVILLE BRODY, London, UK
Neville Brody is a pioneer in the fields of graphic design, art direction, and digital typography. With a career spanning four decades, he is widely acclaimed for his iconic typeface designs. Neville's design for the REMIX Project reinterprets the Gap logotype letterforms using fluid lines and spaces that create an infinite gridded loop where cultural life pools take place and grow.
CANDY BIRD, Taipai, Taiwan
Candy Bird is a renowned street artist and illustrator who creates unique and playful visuals addressing social injustices and environmental concerns around the world. Candy Bird's design for the REMIX Project incorporates the brand's logotype into a satirical composition that reminds us to curb our obsessions with media and celebrity culture.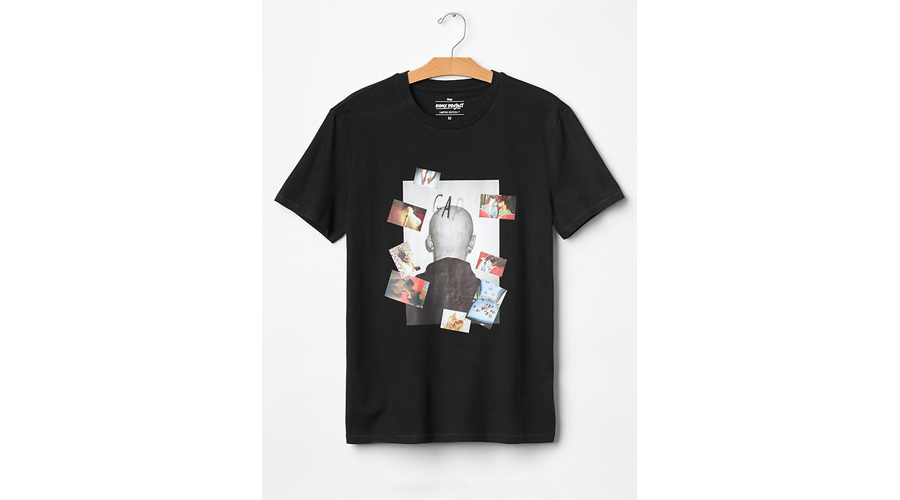 NO. 223 (LIN ZHIPENG), Beijing, China
Lin Zhipeng is a photographer known for his ability to show the volatile, primal energy of China's younger generation. His work explores topics of love, sexuality, gender, free expression, and consumption within the context of modern China. Zhipeng's design for the REMIX Project presents the brand's logotype amidst the his favourite recent images forming a snapshot collage of not-so-typical daily life in contemporary China.