The F.I.S.T. (Future Innovation Sports Tech) Global Series brings together players, brands and clubs in support of sports tech and esports. F.I.S.T. Gaming also sees various discussions on traditional sports vs. epsorts as well as demonstrations of what the future of sport could look like, both on the field and on the screen. Then there are the pitches to investors, breeding further competition and excitement. Other F.I.S.T. events have taken place in Shanghai, Mumbai, San Francisco and Toronto. A F.I.S.T. event sees 50+ speakers and panels, an exhibition floor and an esports competition.
We're at the home of @ChelseaFC today for FIST London – Future Innovation SportsTech Global Series connecting with major sports brands, clubs & federations to chat about their future in sports tech & esports #eSports pic.twitter.com/LomwWiyQ4H

— Ticketmaster Sport (@TMSportB2B) June 28, 2019
Back in April, Markos Aristides Kern from Munich-based FUN WITH BALLS GmbH was crowned for the best sports tech startup pitch at F.I.S.T. Toronto, receiving the F.I.S.T. Heavy Weight Belt as well as prize money. We have previously noticed the rising company, which builds large interactive experiences by merging sport and gamification.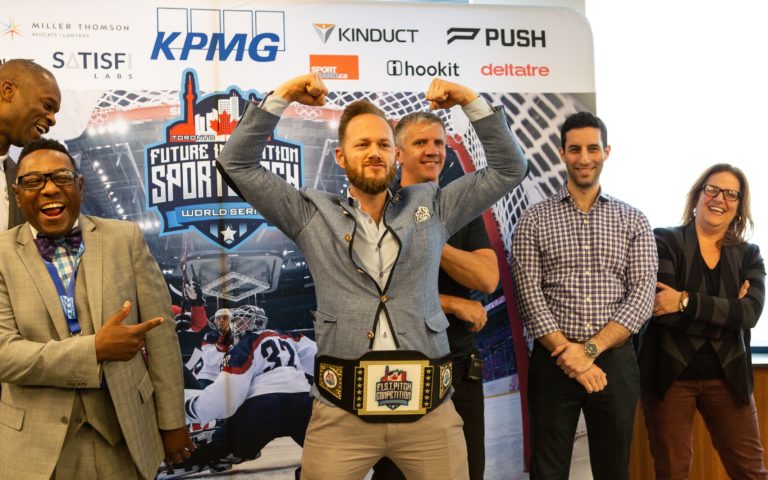 Photo: Markos Aristides Kern winning for best start-up pitch at F.I.S.T. Toronto (April 2019)

Talking pitches: each fall into focus between the tracks of Fan, Athlete and Gamer, with fan experience, IoT, AI and gamification acting as key drivers. The overall pitch winner of the F.I.S.T. World Series Event gets in-kind support to the tune of $30,000 as well as the 15-minute speaking slot at the event, among other perks.
The conference and gaming event were held between London's Sanford Bridge as well as the Chelsea Football Club.
This year's London pitch event finalists were:
ATHLETE
GAMER 
Wellkom Corporate Services LTD
eScout earned the top honour in the GAMER Track, WallJAM took the ATHLETE Track and Heavy Kinematic Machines (Solo) was named the best of the FAN Track.

And the overall winner of the F.I.S.T. London Pitch Competition was Heavy Kinematic Machines/Solo, beating out 14 other start-ups. The three judges for the final round were Carles Bargalló Segura of FC Barcelona, Massimo Marinelli of Aser Sports Limited and John Mushriqui from Validity.
Solo sensors can be paired with gym equipment and then using the app, fitness data is sent to the cloud.
One of the featured talks around esports, specifically FIFA19, took place between James Ruth (eMLS lead), Ben Wyer Roberts (EA Sports), Grzegorz Lagowski (Lagardère Esports) and Anna West (the esports company). How does the esports world compete (and perhaps piggyback) the traditional professional sports world? What makes a sport a sport now that more competitive gamers are stepping into the esports arena? These are paired with gym equipment are all questions and conversations to consider, and regardless of which side one may fall on underestimating the reach and money coming out of esports is just a wasteful sentiment.
Key investors from the UK such as 23 Capital, Truesight Aser Group, Sapphire Ventures, LLC and Triple Scout's Charlie Greenwood were on board during Investor Day, too.
"Our aim is to leverage the F.I.S.T. World Series platform to make sure we are up to date on the world leading trends in innovations from the impacts of 5G, blockchain or quantum computing we have it covered," the company said.
The F.I.S.T. Global Series will see more of this sort soon in Shanghai (September 2019), Mumbai (October 4, 2019), and San Francisco (November 8, 2019).