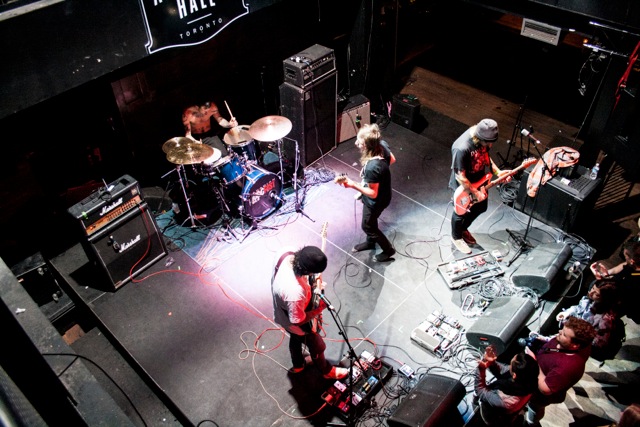 So to celebrate Canadian Music Week and everything musically Canadian, I went to see a band from Philly (after watching a band from Brooklyn the night before).
Nothing, an alternative-shoegaze-rock band from Philadelphia, kicked off their tour in support of recent release "Guilty of Everything" with a thunderous performance as part of the Osheaga showcase at Adelaide Hall on Saturday evening.
The quartet lead by Domenic Palermo, who's past life plays a "small" part in the atmosphere around the band, showered the audience in tones harking back to 80's dream pop. Bands such as Smashing Pumpkins and My Bloody Valentine spring to mind, with a nod towards Joy Division. The album is a mellow, dark and heavy affair, but when the tracks are performed live, guitars are blasted through pumped up amps and drums pummelled to near skin-breaking level. Domenics' vocals however, keep you in the same heady daze.
Nothing has grown from numerous other outfits. Metal and Hardcore feature heavily adding power and surge to the dreamlike shoe gaze, and the recent resurgence of Post-Punk adds grace to the peaceful breakdowns.
The Philly power-pop-4-some headed back into the US right after the TO show but return to Canada May 22 to play Electric Owl in Vancouver and will be at Osheaga in August.​