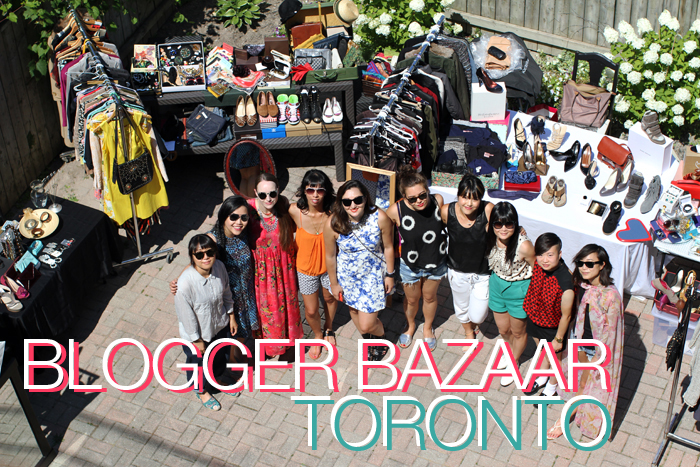 Last Sunday we got together with some of our favourite Toronto fashion bloggers to open up our closets for sale at the first ever Blogger Bazaar presented by the fab shop Aime Luxury. Housed in the stunning backyard of the Yorkville shop, Sharon and Tara of The Backseat Stylers, Kim of The Souls Of My Shoes, Gracie of Gracie Carroll, Nelia of StyleBlog, Liane of Lost Sea Vintage, Michelle & Gabby of You Just Got Spotted, Jess of Ever After Lacquer, Monica of Aime Luxury, and of course myself, spent our Sunday selling our new and second-hand designer and vintage attire at crazy low prices.
We started the morning off early with a delicious catered brunch by Toronto chef Mark McEwan's catering service, McEwan Catering. We selected a menu over the phone with Mark's son Eric who made it super easy to decide what would work best for us bloggers to fuel up for a day of selling clothes. After being tempted by many delicious offerings on the menu, we settled on spread of smoked salmon, Gryfes bagels (our favourite) and flat bread, fresh fruit and yogurt, pastries with fruit preserves, freshly squeezed juices and yummy breakfast burritos. They were delivered exactly on time, neatly packaged in insulted bags to keep the burritos warm, and plated beautifully on wooden platters and bowls which can be reused. The preserves, yogurt, and cream cheese came ready to serve in lovely small mason jars which we all took home to reuse as well.
As the day progressed, and the sun grew hotter, we were glad to have full tummies and fresh juices from McEwan to keep us hydrated in style. Who says you can't throw an event and still have brunch on a Sunday!?
The lovely folks at Civello Rosedale kept everyone looking fabulous with their on-site styling station in a shady corner of the backyard, and handed out yummy samples of lavender spray and hand lotion to attendees. If you're reading this and you weren't able to attend we'll do you a favour and let you know what amazing items you missed out on. Tons of vintage clothes from The Lost Sea; cookbooks, shoes, and studded shorts from Gracie Carroll; a five dollar shoe bin that went like hot cakes and Christian Louboutin measuring tape heels from StyleBlog; a rather epic shoe table containing everything from Manolo's, Charlotte Olympia, and Louboutin's  from Backseat Stylers; a fox fur-trimmed VAWK coat from Ever After Lacquer; and a bunch of designer handbags from Miu Miu, Chanel, and more from Aime; and of course a ton of designer scarves and Tom Ford sunnies from yours truly at Sidewalk Hustle.
Feeling left out that you didn't attend? Check out the photos and PLUS enter to win a Civello makeover below! We'll definitely be doing it all over again soon, so stay tuned!