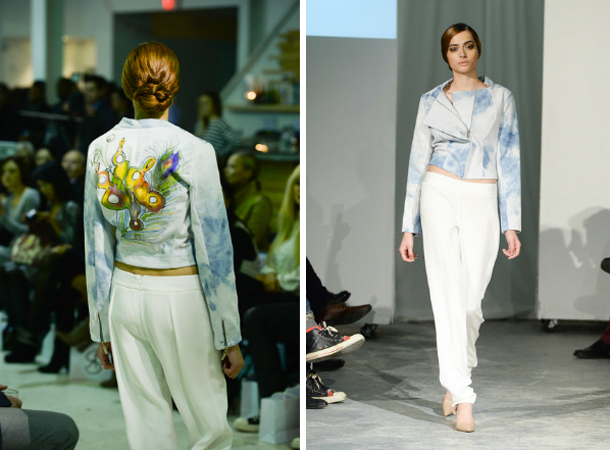 Aleks Susak presented her namesake label's debut collection this past week, showcasing her Spring/Summer 2015 collection. Launched in 2014, Susak's line was born from necessity – she has been independently designing and creating clothes for over a decade and the strong demand for custom orders created the need for her own line.
Her collection is a family affair – Aleks grew up in an artistic household, and now incorporates her own art work in her designs with the assistance of her mother and fellow artist, Mila Susak. Alek Susak's line is made for fashion conscious women, dedicated to expressing femininity and individuality, with an appreciation for fine art – this direction shone through in her Spring/Summer 2015 collection.
"I use leather, silks and denim which are individually very different, yet work together in such a way that fuses edginess with sophistication and femininity" says the designer. Inspired by patterns in nature, pieces in the collection are painted by hand, creating one-of-a-kind garments that incredibly individual, yet wearable.
See some photos from Alek Susak's debut collection below.