There's been a lot of negative chatter following Apple's Keynote back in October in response to the new MacBook Pro. We got our hands on the new 13-inch MacBook Pro for a test drive and we're excited to share the reasons we're actually so in love right now.
Sure they removed the SD card reader and the USB ports, but who wants to look at bunch of ugly ports you probably don't use anyway; were looking at you FireWire  ?.
Not to mention the new iPhone 7 and 7 Plus headphones are no longer compatible with the headphone jack on the MacBook Pro, but hey, all you iPhone 6 headphone hoarders out there are in luck!
Negativity aside, there's a ton of new design features that are easy to overlook, plus, technically speaking it's packed with a ton of performance enhancing features and hardware you basically NEED to keep working on your big projects, even on the go.
We've rounded up the five reasons we love the new MacBook Pro.

It's Smaller
Not only is the new MacBook Pro thinner than previous generations it's also much lighter, making it the ultimate workhorse to take on the go. The 13-inch model is 18% thinner and half a pound lighter than its predecessor (that's 12% thinner than the 13-inch MacBook Air too), while the 15-inch is 14% thinner and about half a pound lighter.
Other design features include an all-aluminim enclosure, a new logic board, and refined fan blades, to keep everything nice and cool while you're doing your heavy lifting. Plus, it now comes in Space Grey as well as the usual Silver, so you can look cool doing it.
The Future = Touch Bar
The touch tool bar is pretty much the coolest new feature on the MacBook Pro. It's that one step closer to touch everything, and it's pretty much revolutionizing the experience of working on a laptop. This intuitive little strip of glass at the top of the keyboard, where the rarely used function row used to be, is designed to adapt to whatever application you're using, summoning a new set of controls for each.
From quickly scrubbing through photos, formatting shortcuts, flipping from tab to tab in Safari, summoning Siri, to easier access to emojis, the Touch Bar enables quicker access to the tools you need to get things done way faster. No more space-command-control to bring up the emoji keyboard and slowly select one emoji painfully at a time. Now you can rain down fire emojis in no time! ??

There's a Bigger Trackpad
For all you designers and photographers who edit on the go, you're really going to dig the new Force Touch trackpad. Not only has the size doubled on the 15-inch model (it's 46% larger on the 13-inch model), it's got more pressure-sensing capabilities which enable you to click anywhere for a more uniform feel. We know it doesn't sound like a big deal to all you writers out there, but this is a game changer for illustrators and designers.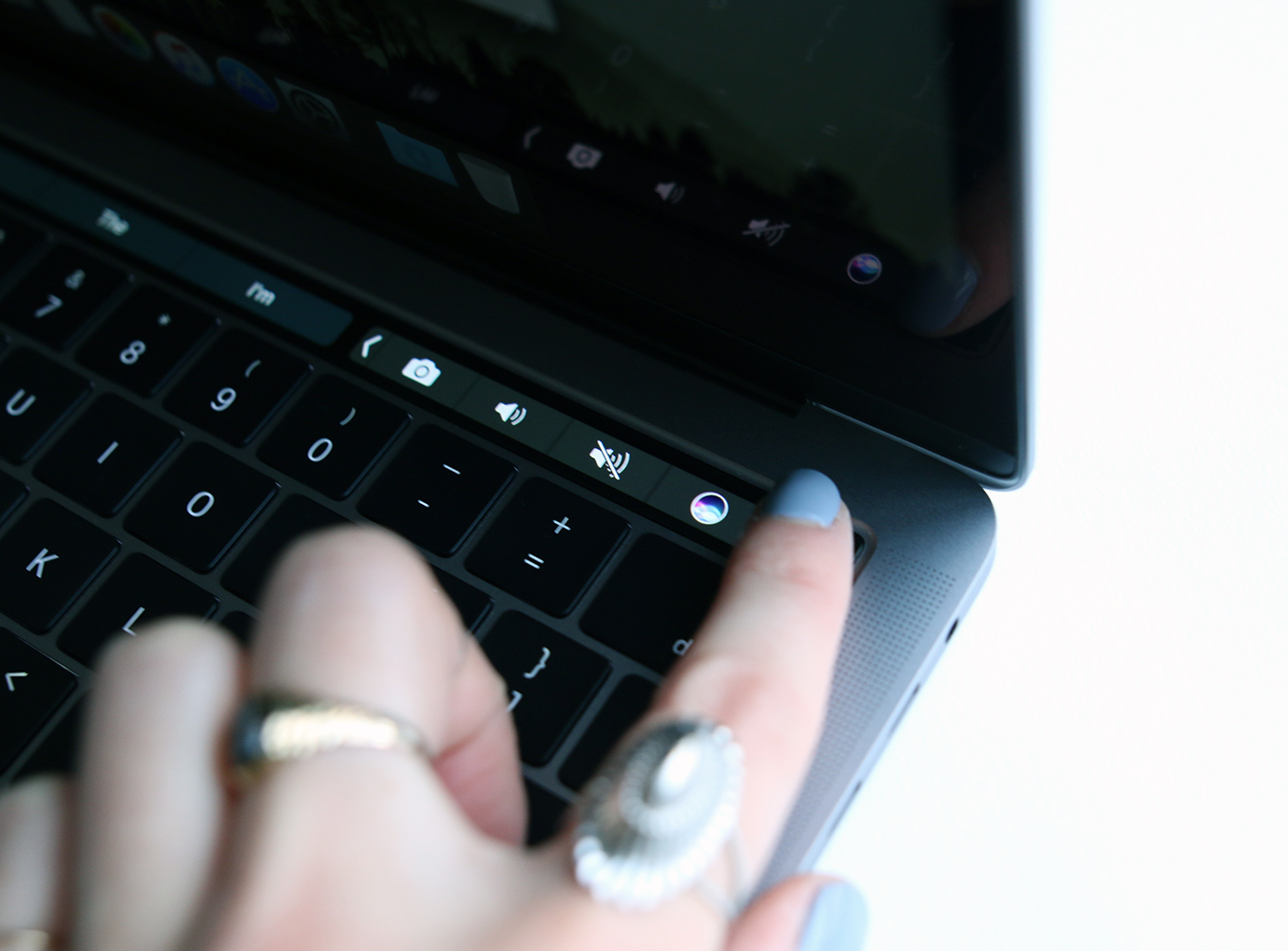 Touch ID
The super neat new Touch ID, which doubles as the power button, adds an extra level of security to your life without any pesky passwords. Maybe we're being paranoid, but when you aren't using your computer you really should lock it. Especially a laptop! You can't always be blaming Russia when your email gets hacked ?.
Located at the end of the Touch Bar, the Touch ID is made from laser cut sapphire crystal with a stainless steel border, powered by a capacitive single-touch sensor that quickly reads your fingerprint to unlock or lock your screen no matter how light or hard you press. For multiple user accounts, you'll be able to switch and unlock registered user accounts as well.
You'll also be able to use Apple Pay for web purchases in Safari, so you don't even have to get up to grab your credit card when you're online shopping instead of working.
Crazy Good Retina Display
Yes yes, Apple is always talking about the Retina display, but when they make it so good that pictures and movies look better than reality it's something worth boasting about. On the MacBook Pro they've increased brightness by 67%, improved contrast, and widened the colour range by 25%, while also somehow making it 30% more power efficient than previous generations. Basically you can see more detail, depth and dimension in bright ambient light conditions, if say, you're working poolside this winter.
The MacBook Pro is available in stores and online now in 13-inch starting at $1899 CAD and 15-inch starting at $2999 CAD.